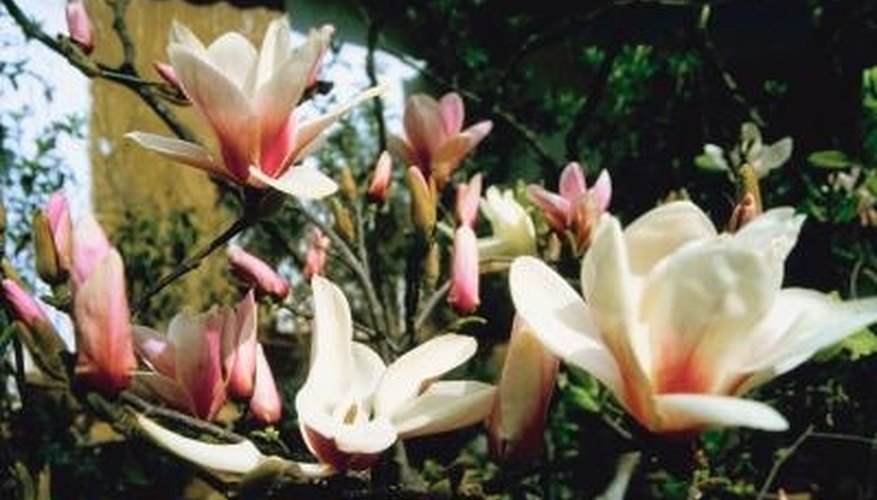 Louisiana is located in the southern United States, and is noted for its mild, often humid climate. It is a semi-tropical region, with average temperatures that range between the mid-50s through the high 80s. Landscaping in Louisiana offers growers a range of plant options, including flowering shrubs, trees and accent plants. The state falls primarily within planting zones 8 and 9, with a bit of zone 10 near the southern tip of the state. There are a few plants that are widely used throughout the states.
Flowering Annuals
Annual plants are varieties that complete a life cycle in one year. These plants require replacement each year, and are ideal for gardeners who want to change their yards' looks each season. Most annuals will produce flowers once per season, though some may be deadheaded and will produce a second round. Summer snapdragons (Angelonia angustifolia) are widely used in annual gardens, and provide a vibrant pop of color. They require warm temperatures, full sun exposure and well-drained soil, making it ideal for Louisiana. Impatiens, scarlet flax, morning glory and petunias are all ideal selections for the state.
Flowering Perennials
Perennial plants are those that will live for several years, and perennial gardens tend to require a bit more planning than annuals. Growers should consider how much light the planting area receives, as well as where water may linger after rain. There are varieties that bloom in every season, which adds year-round color to the garden. Angel's trumpet is a common choice for Louisiana gardens. It thrives in tropical climates and produces delicate flowers with a strong, pleasant scent. The vine requires full-sun exposure, warm temperatures and humidity, all conditions available in Louisiana. Additional options include the coneflower (Echinacea), begonia (begonia grandis), hardy aster, a few iris species and several lilies and sunflowers. There are several dozen more for growers to consider.
Fruits and Vegetables
Louisiana is home to fairly mild year-round weather, which makes it ideal for a number of fruit and vegetable planting. Green vegetables -- particularly spinach, lettuce and parsley -- are common, and will generally produce during the early to mid-spring. Tomatoes, peppers and eggplant may be planted as early as mid-February in some parts of the state. Vine-growing melons, particularly watermelons and cantaloupe need lots of space, but grow well in zones 9 and 10. Onions, potatoes and beets are all ideal zone 9 and 10 root vegetables, which may be planted any time from October to March.
Trees
The magnolia is among the most popular trees throughout Louisiana, and its fragrant white flower is the state's official flower. The tree has an evergreen growing habit, and will resist drought, most pests and a number of diseases. Magnolias will reach mature height between 10 and 100 feet, depending on the species. These trees may be found in all parts of the state. The thuja green giant (Thuja plicata), tulip poplar (Liriodendron tulipifera), crape myrtle (Lagerstroemia indica) and weeping willow (Salix babylonica) are also ideal for Louisiana's environment.