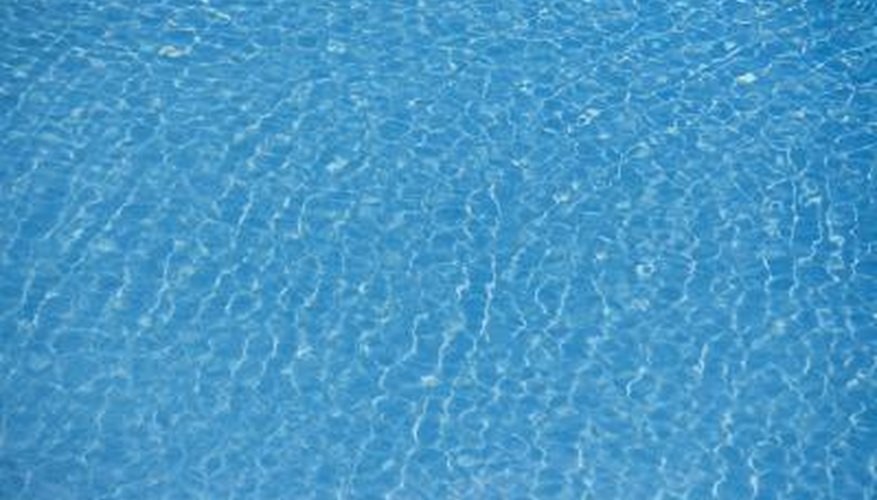 The delicate balance of pool water can be difficult to keep. A large number of outside influences can affect the water in any number of ways. Unless you keep the pool covered when not in use, the second most common influence is rainwater. Once you know why and how rain affects the water in your pool, you will be better able to anticipate the shifts in pool chemistry.
Diluted Water
Rain will affect the water first by diluting all the chemicals present. You may have had balanced water, but with the addition of more water, that is no longer the case. After heavy rains, the addition of that much water will have thrown everything out of balance. Shock the pool as soon as possible to begin correcting the balance, which adds a large dose of chlorine at one time to bring the levels back up to normal.
Contaminates
Rainwater carries contaminates from the atmosphere, such as pollution and bacteria that enter the water and wreak havoc on your chlorine levels. A soon as the foreign water enters the pool, your chemicals will begin to attack it. Extended periods of heavy rains can completely wipe out any residual chlorine levels and create a very unhealthy swimming environment. Rain will also lower the pH and alkalinity which will lower the pH even further.
pH
Once the pH is out of balance, the chlorine will dissipate or become ineffective which allows the contaminates to grow in the water. Chlorine may be the most important chemical to keep a pool clean, but pH is the most important aspect of the pool chemistry to keep balanced. After a shower, test your water and get the pH back in range. An unbalanced pH will affect every other chemical in the pool. It is important to balance this first. Low pH will allow the chlorine to escape the water quicker, while a high pH will cause scaling, cloudy water and buildup on the walls.
Chlorine
The contaminates that entered the pool with the rain will immediately begin using the chlorine in the pool, causing the levels to drop. If you have a chlorinator, run it during the storm to help keep up with the demand. If not, check the water as soon as you can. A shock treatment will boost the chlorine levels and destroy any leftover contaminates and bacteria. Any way you add chlorine, whether with a chlorinator or a shock, the pool is unsafe to swim until the water is back in balance.