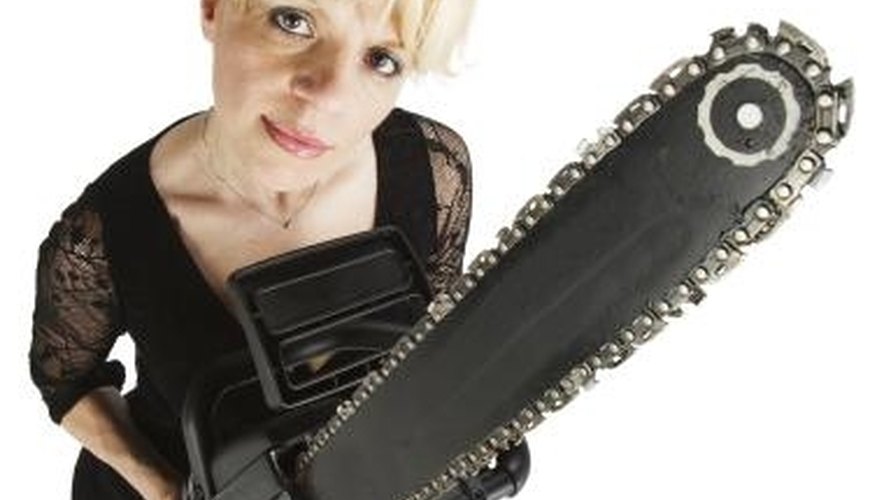 The teeth on a chainsaw are designed to remove chips from the wood and carry them out of the cut. Saw teeth must withstand heat, abrasion, corrosive wood chemicals and foreign material embedded in the wood. There are two basic styles of chainsaw tooth. The round or chipper tooth is rounded on the backside and curves over the top. The square, chisel or flat-top tooth has a flat back and top.
Tooth Design
Three factors determine how well a chainsaw's teeth will perform. Hook, sharpness, and back clearance angles must all be properly adjusted to handle different types of wood. For hardwood, or softwood containing hard knots, the angle of the hook must be smaller. For pliable softwood, the tooth's hook angle may be larger. Typical values for hardwoods have a tooth hook set at 20 degrees and at 30 degrees for softwood.
Sharpness and Back Clearance
An increased sharpness angle reduces the strength and stiffness of the tooth. The cutting angle for hardwood is typically set at about 62 degrees and for softwood at around 48 degrees. Without adequate back clearance, the wood would rub on the back of the tooth and prevent efficient feeding. For hardwood, a back clearance of approximately eight degrees is required, while springier softwoods need a clearance angle closer to 12 degrees for optimal performance.
Gullet Area
The gullet of the tooth holds and carries the sawdust formed at the tip of the tooth to the area where the tooth leaves the bottom of the cut. Sawdust spillage from the gullet accumulates between the surfaces and causes the saw blade to bind and overheat. The bottom of the gullet must be square and sharp and large enough to contain the sawdust and prevent spillage. Feed speed varies with the blade speed, tooth pitch, depth of cut and the size of the gullet area
Cutter Teeth
The cutter teeth slice the fiber of the wood chip by chip. Depth gauges are used to set the teeth for optimal bite. Chip width corresponds to the distance between the outer edge of one side's cutter teeth to the other side's outer edge. This is because the two sides work with each other to complete the cut. Cutter teeth need to be filed regularly to correct nicks and lacerations and maintain a sharp cutting edge.