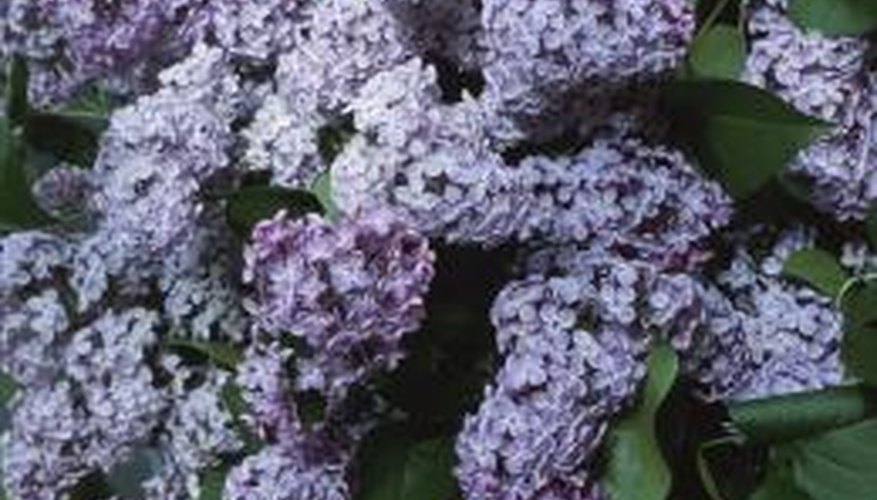 Powdery mildew is a fungal infection that attacks almost all ornamental plants, including lilac bushes. It's the most common disease to infect lilacs, according to the Purdue University Cooperative Extension. There are many powdery mildew species, but they all produce similar symptoms in the hosts they infect, including the appearance of a white, powdery coating on the surface of the leaves.
Symptoms
Early symptoms of powdery mildew include the appearance of round white spots on the surface of leaves. The spots grow and merge with other spots, until they cover the whole leaf. Sometimes the mildew is mistaken for dust, and it can be partially removed from the leaves by rubbing it. Other symptoms include stunted and distorted leaves, buds and growing tips. Lilac leaves might curl, turn yellow and drop from the bush, and the lilac might decline because the fungus removes nutrients from the plant for its own use. Young leaves and shoots are especially prone to infection. Powdery mildew doesn't usually kill lilacs. It has little effect on the plant's health, but it does make them look less attractive.
Environment
Unlike other fungi, powdery mildew doesn't require wet leaves to infect a plant. It spreads when lilacs are crowded, grows in the shade or when humidity is high. Plants are infected when temperatures are between 60 and 80 degrees Fahrenheit. The fungus overwinters on infected plant parts and fallen leaves. Spores are released in the spring to start a new cycle of infection.
Control
To control powdery mildew, rake up fallen leaves and destroy them. Prune lilacs to improve circulation of air and to provide more sunlight. Don't plant lilacs in the shade. Plant resistant varieties of lilacs. Fungicides can be used, if necessary, as soon as white patches are seen. Make sure any fungicide you use is registered for use on lilacs because not all fungicides can be used on all plants.
Downy Mildew
Downy mildew isn't as common as powdery mildew, but it does occasionally infect lilac bushes. Because it, too, produces a gray or whitish powder on leaves, it is often mistaken for powdery mildew. While powdery mildew first appears on the upper surface of leaves, downy mildew appears on the bottom surfaces of leaves. Additional symptoms include the appearance of small yellow spots on the upper leaf surface. Downy mildew develops in cooler temperatures of 58 to 72 degrees Fahrenheit. Downy mildew may cause leaf loss in lilacs but doesn't tend to kill plants, and it can be treated with the use of fungicides.