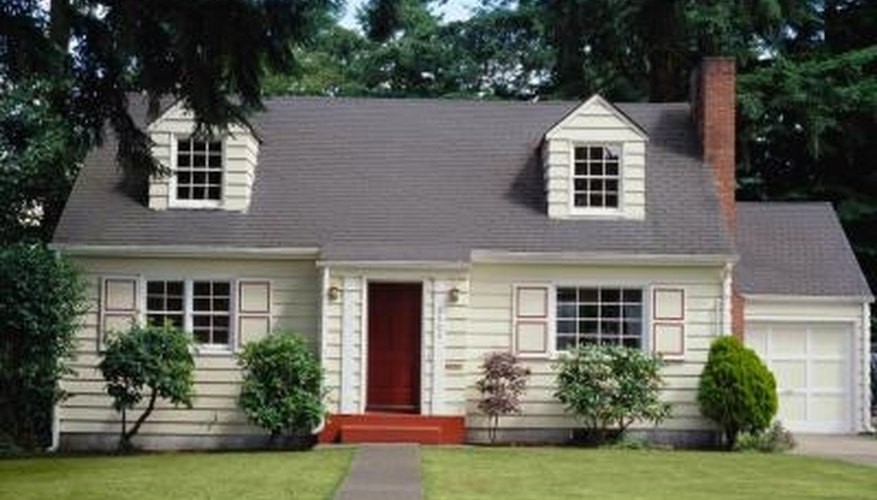 Landscaping a front yard adds value and curb appeal to a home. Square front yards often lend themselves to a symmetrical design that frames the house. As you decide on a walkway, plants and other elements, focus on accessibility and creating an inviting appearance. When landscaping a front yard, simple, functional designs go a long way in accentuating the unique qualities of a home.
Walkways
Front walkways have a strong impact on the accessibility of your front yard. Make the front door a welcoming focal point by aligning a center front door with a straight walkway that cuts through the yard to the sidewalk. If the front door is off-center, add balance by curving the walkway in an S shape. One alternative to breaking up the front yard is to curve the walkway along the front of the house to the driveway. Pave the sidewalk with concrete, bricks, pavers or stones for a long-lasting walkway that can accommodate wheelchairs, equipment and years of use.
Driveways
If space is limited, the simplest course for the driveway is often the most attractive option. Choose a paving material that will unify the driveway with other elements in the front yard. For instance, if the walkway is paved with stones or bricks, consider stamping a concrete driveway with a similar textured pattern. Adding texture to the driveway surface brings contrast and visual interest to the straight lines.
Plants and Trees
When selected with care, plants and trees balance a square front yard while also reducing maintenance. Planting trees adds vertical lines and depth. Let the size of your yard determine the number and type of trees you choose. Large trees like olive, poplar and oak trees offer shade on a sunny day, while dogwoods and citrus trees are smaller and fragrant. Add a line of topiaries or boxwoods to creating a linear pattern across the front exterior. Add a round plant bed off the sides of the home or at the end of the driveway to add curves to the square yard. If you want to reduce maintenance, plant ground cover ivy or creeping juniper in place of grass.
Edging
Installing edging along your walkway, driveway and plant beds adds structure to the front yard. The type of edging you use can either accentuate certain qualities or simply block encroaching grass and blend with the rest of the yard. For instance, edging with medium-sized stones adds a rustic look, while brick edging looks clean and traditional. If you want to add more color to the yard, plant low-growing flowers like geraniums along the driveway and front walkway.