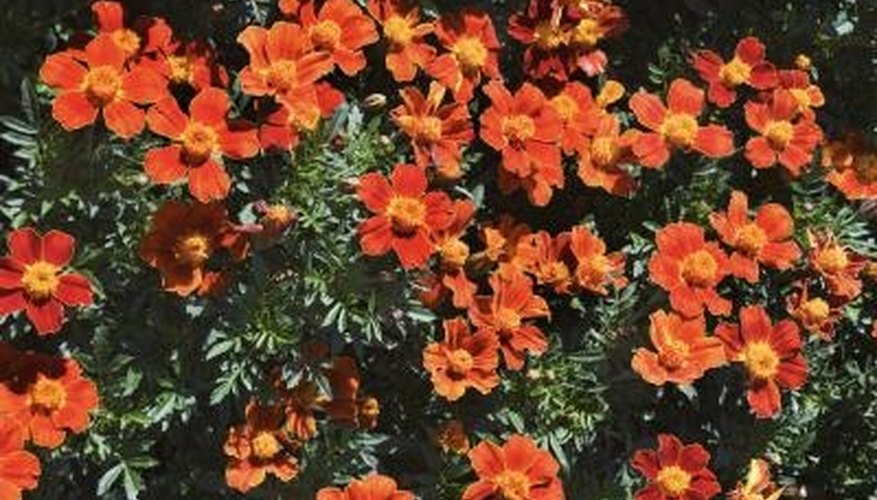 Home gardeners often find their beloved plants under attack from damaging pests. Plants infested with insects often have chewed leaves, damaged flowers and evidence of sooty mold. There are a variety of home remedies that are successful in reducing insect infestations in garden plants, trees and shrubs. Be sure to test any solution on a small portion of your plant before applying all over to avoid damaging sensitive plants.
Soap Solutions
Homemade soap solutions are often effective in reducing insects on your plants. Spider mites, aphids, whiteflies and mealybugs are all common plant pests that can damage both your indoor and outdoor plants. Combine 3 tbsp. of liquid dish soap with 1 gallon of water and apply it to the infested plant. Be sure to test the soap on a small area before applying it to the entire plant. If no adverse effects are evident after three days, it is safe to apply it all over. Soap solutions coat the insects and cause their cell membranes to rupture. Homemade soap solutions will not kill most beneficial insects and are safe to use around pets.
Oil Solutions
Horticultural oils are effective in reducing the number of pests such as thrips, mealybugs, spider mites and aphids on most landscape plants and trees. Oil products cause insects to suffocate by coating their air holes with thick oil. You can make your own oil solution by combining 2 tbsp. of vegetable oil with 1 gallon of water. Apply this solution to your insect-infested plant once a week until insects are under control. Oil products must coat insects to kill them, so be sure to apply them thoroughly, especially to the undersides of plant leaves where many pests gather to feed.
Alcohol Solutions
Plants infested with mealybugs and aphids typically have insects on the undersides of plant leaves. Dabbing an alcohol-soaked cotton ball or cotton swab on the insect will remove it. Heavy infestations may require a stronger alcohol solution. According to Colorado State University, you can make your own alcohol solution by combining 10 percent rubbing alcohol with 90 percent water. Place the solution in a spray bottle and apply it to infested plant leaves. Repeat this procedure once a week for best results. Some plants may be sensitive to alcohol solutions, so test it on a small portion of the plant before applying it all over.
Water
Water will kill a number of damaging insects on plants if sprayed with enough force. Spray a hard stream of water onto your insect infested plants two or three times each week. This will cause insects to fall from plant leaves and keep them under control. You can spray outdoor plants with the garden hose, and indoor plants may be placed in your shower stall. Spraying your plants with water will also help remove any egg shells or silky webs placed on the branches and leaves of plants.