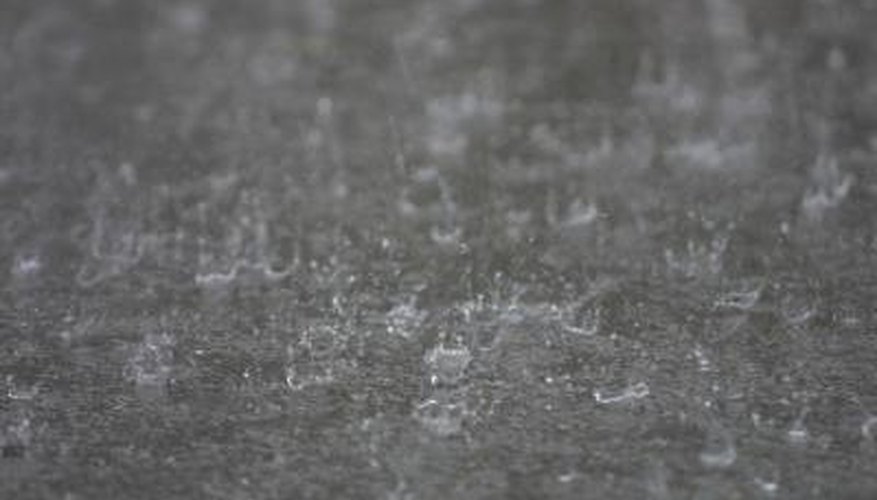 For swimming pool owners, it's important to remember that they're trying to keep a large body of water clean and sanitary. Unfortunately, when it comes to swimming pools the sanitation task can be made more difficult by rainfall. In many parts of the country, rain can be slightly acidic, which can throw off a swimming pool's pH balance. In addition, rainfall can degrade a swimming pool's chlorine residual, bringing about the need to add more chlorine after it stops raining.
Rainfall
Before rainfall hits a swimming pool's water it typically picks up a small amount of atmospheric contaminants. Airborne contaminants in rain include such things as algae and chemical pollutants. And though it's rare for rainfall to carry anything particularly harmful to humans, algae and other contaminants can negatively affect a swimming pool. Additionally, rainfall is in many cases slightly acidic, especially in urban areas. Swimming pools are slightly alkaline, meaning rain's acidity can upset a pool's delicate pH balance.
Chlorination Rationale
After a rainfall, it will usually be necessary to add additional chlorine to a swimming pool. The reason why post-rainfall pool chlorination is required mainly has to do with how rain can dissipate the available chlorine in a pool. Organic contaminants in rain will cause a pool's chlorine to begin work decontaminating the water, quickly reducing any chlorine residual. Also, once rain drops a pool's pH below 7, because of its acidity, chlorine levels will also start to decline quickly.
Chlorination
Once it's stopped raining, a swimming pool's chlorine levels should be measured using a standard pool test kit. The recommended level of chlorine in a swimming pool should be about 2 parts per million (ppm). In all cases, a pool's chlorine level shouldn't be allowed to go below 1 ppm and remain there. It takes about 3/4 to 1 pound of standard solid calcium hypochlorite pool chlorine per 30,000 gallons of water to raise chlorine levels to about 2 ppm.
Considerations
When adding chlorine to a pool after a rainfall, make sure to determine its pH balance as well. Recommended pH in a pool should be between 7 and 8, with 7.4 to 7.6 being an ideal range. Keeping a pool's pH a bit higher than 7 will ensure that it remains alkaline enough to counteract rain's sometimes-acidic nature. You can raise pool pH by adding approximately 1 pound of soda ash per 30,000 gallons of water.
Heavy Rains
It's always a good idea to superchlorinate, or shock, your swimming pool after a particularly heavy rainfall. By raising your pool's chlorine levels to at least 10 ppm or higher you give your pool a chance to completely disinfect itself. Just make sure to also address the swimming pool's pH balance while superchlorinating, restoring pH to recommended levels. Before swimming, let pool chlorine levels decline from the minimum 10 ppm superchlorination level back down to about 2 ppm.