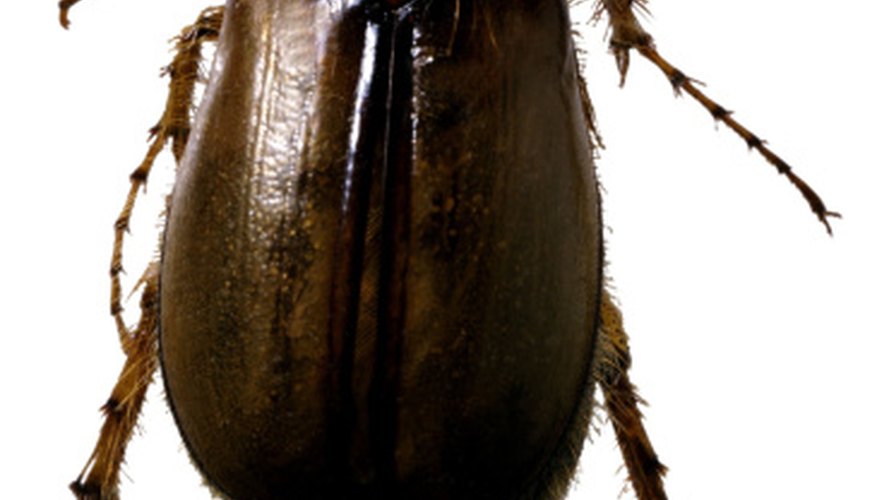 If you have a porch light, you will find that some insects are drawn to it when it is on at night. A variety of nocturnal insects will fly out of the darkness to be near the light. Your location will determine which insects show up when the light is switched on.
Types
Several species of flying insects are attracted to porch lights, including moths, beetles and flies. The type of bugs you see near your porch light will depend on where you live. For instance, 1,300 species of scarabs live in North America; these stout beetles with large heads are usually called June bugs. If you live in the southeastern United States, the June bug you see banging against the porch light may be a Cotinus nitidas, while a June bug attracted to a porch light in Iowa may be a Cyclocephala borealis.
Reasons Insects Like Porch Lights
While light attracts many bugs, entomologists are not exactly sure why this is so. The University of Florida notes that many species of insects are particularly attracted to artificial light. May Barenbaum, professor of entomology at the University of Illinois, speculates that flying insects use the largest source of light in the area for navigation. While this has traditionally been the North Star or another distant celestial light source, porch lights are brighter, so insects steer toward them instead.
Prevention
If you don't want to draw bugs such as moths and June bugs to your porch when the light is on, consider using a yellow tinted light bulb that is less likely to draw insects, according to the "Farmer's Almanac." Sodium vapor lights are also less likely to attract insects because insects do not see yellow or red wavelengths in the spectrum. Shielding a light so it only strikes a limited area of the porch helps deter insects from walls.
Learning About the Insects that Like Porch Lights
Insects attracted to porch lights present a perfect opportunity to learn about the bugs. They can easily be gathered in a jar as they come near the light. Get an insect field guide to help identify the bugs and a high-power magnifying glass for observing them. A notebook is useful for writing down observations about the insects, as well as for keeping a log of what insects have been seen.