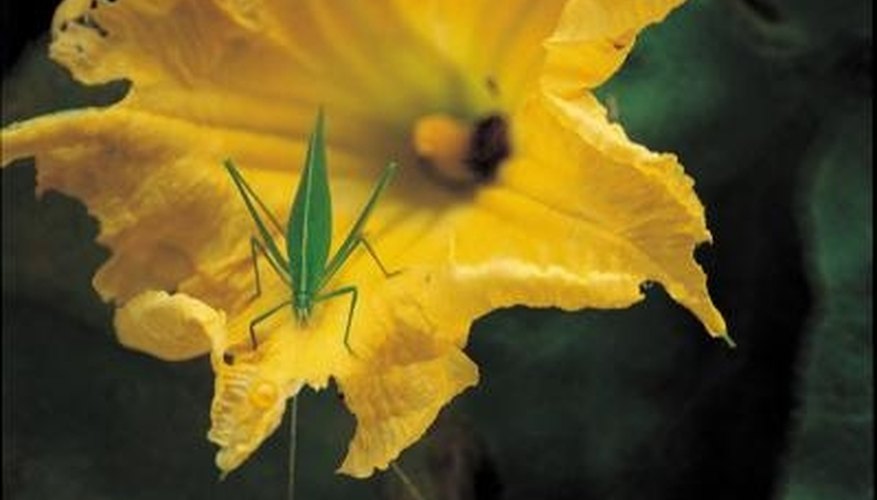 If you plant pumpkins in mid-May or early June, then you'll probably start to see flowers in July. But for the novice pumpkin gardener, those first flowers can bear disappointment. Pumpkin vines have separate male and female flowers and the fruitless male flowers appear first. You have two options when your flowers start to appear: Leave pollination to the bees or take the do-it-yourself approach.
Male Flowers
The first flowers to appear on a pumpkin vine are the male flowers. They show up a week or two before female flowers to begin attracting pollinators, like bees. Male flowers are large and extend out from the vine on thin stems. Their centers contain pollen-bearing stamens. The stamens are typically large and easy to recognize. They have a yellow ball of pollen resting on top of a white filament.
Female Flowers
Female flowers are easy to spot. They are close to the vine on short stems. In between the vine and the flower, you'll see a small, round ball. This is the ovary, and if the flower is pollinated, it wilts and dies and the ovary grows into a pumpkin. The vine produces more male flowers than female because this increases the chance of pollination.
Natural Pollination
Bees usually carry out natural pollination of pumpkin flowers. Male flowers produce nectar along with pollen to attract them. Females make double the nectar of males so bees will be sure to visit them, too. If your pumpkins aren't being fertilized, you might not have bees in your area. Or, you or someone else in the neighborhood might be using pesticides in your garden. Pesticides used to kill aphids and other common garden pests also kill bees, limiting the chance of pollination.
Hand Pollination
If nature isn't doing the job, you may need to pollinate by hand. Pumpkin flowers open in the morning and close around noon. It's best to pollinate as early in the morning as possible, just as soon as your flowers open. Once they are closed, they won't reopen so you'll need to be ready. Carefully pick the male flower and pull off the petals. Brush the stamen against the center of the female flower, taking care to get pollen on all parts of the female flower's stigma. Then wait and see. If pollination wasn't successful, the ovary will shrivel and die in a couple of days. If it was, your little pumpkin will start to grow.