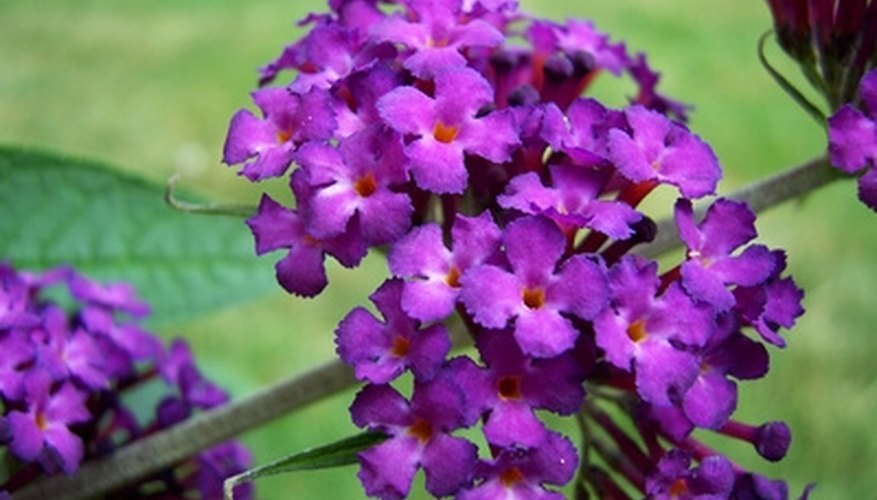 The butterfly bush, or buddleia, is a native of China that was introduced in England in the 1700s. It grows easily and survives tough conditions. There are a number of cultivars, but all have nectar that is very attractive to butterflies and even hummingbirds. The butterfly bush may be planted successfully at different times of the year, depending on the plant hardiness zone, the climate, or whether a nursery plant or home-raised seedling is going into the garden.
Planting Seeds
Butterfly bushes can be planted from seeds, but that takes some special care. You must chill the seeds for four weeks before sowing them. Then they will need a lot of light to germinate, so the soil cover has to be extremely thin. Expect the seeds to push up green shoots in about 90 days. If you have been growing the seedlings indoors, transplant them in the spring after the last frost.
Temperate Climates
The ideal time to plant butterfly bushes in four-season climates is in spring. The plant adapts most readily to good draining soil and sun but will tolerate less-than-ideal conditions and partial shade. It will be firmly established after a full summer season. Butterfly bushes can withstand drought but appreciate a good watering when rainfall for the month is less than an inch. An established bush will make it through the winter and need pruning of dead wood in the spring.
Warm Climates
Plant buddleia in the spring or fall in warm climates. A spring planting gives the bush a chance to flower on schedule in the summer and into the fall. A fall planting will let it develop a strong root system and healthy shoots before new growth in the spring. To transplant a nursery pot, dig a hole twice the diameter of the pot and as deep as the pot is tall. Remove the plant from the pot and gently separate the root strands that have formed a root ball. Fill in with composted soil, keeping the top of the root ball even with the soil surface. Tamp the soil down lightly and water thoroughly. Keep the plant watered until it begins to grow, leaf and flower.
New Growth
The bush may look dead after the winter but don't be fooled. Give it time so you can see how well it did survive. Trim all obviously dead wood after you see renewed signs of life in May and June. New growth takes place only on new wood. A plant that makes it through an extreme northern winter may need severe pruning in the spring. It will bounce back by summer with new life and new shoots.