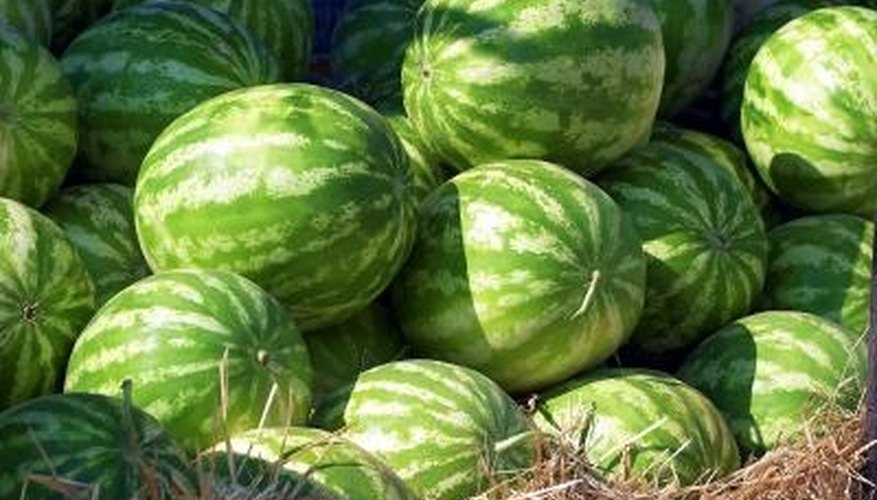 Gardeners may encounter numerous environmental problems when growing watermelons. Certain problems can be prevented when watermelons are planted in a location that meets their growing requirements. For example, watermelons encounter problems producing food or fending off pests if they are not grown in full sunlight. Other pest factors such as insects and fungal diseases must be recognized and treated to prevent a reduced yield.
Growing Requirements
Watermelons must be grown in areas that receive six to eight hours of sunlight for healthy growth. Choose a place in the yard that is sunny and has well-draining soil. Compacted or poorly draining soil may result in fungal disease problems. Furthermore, watermelons produce optimal growth when they are planted in soil that has a pH range between 6.0 to 6.8. Test your soil's pH prior to planting. Spread sulfur over alkaline soil or lime over acidic soil.
Planting Requirements
Watermelons are warm-season fruits, which means they cannot tolerate frosts. The best time to plant your watermelons is when daytime temperatures are between 70 and 80 degrees Fahrenheit and nighttime temperatures are between 65 and 70 degrees Fahrenheit. Planting before the last frost puts your watermelons at risk for winter injury. Also, planting too late in the season may prevent your watermelon from being ready before the first frost of the season.
Fungal Diseases
Gardeners should space watermelons six feet apart at planting. Planting watermelons too close together raises the risk of the fruit contracting fungal diseases such as anthracnose, fusarium wilt, alternaria leaf spot and gummy stem blight. Check your watermelons throughout the season for discoloration, wilting, defoliation or disfigured fruit, which indicates a disease. Remove damaged fruit from the garden bed if disease is suspected to prevent the spread of fungal spores.
Pests
Pests such as aphids, mites and cucumber beetles infest watermelon crops. Monitor you watermelon plants so you can spray pesticides before damage gets too bad. Look for tiny insects living on leaves and stems. You may notice a sticky residue on your watermelon plant, which indicates the presence of aphids. Try spraying an insecticidal soap on your watermelon plant to eradicate insects before applying pesticides. Pesticides can kill off beneficial insects such as bees.