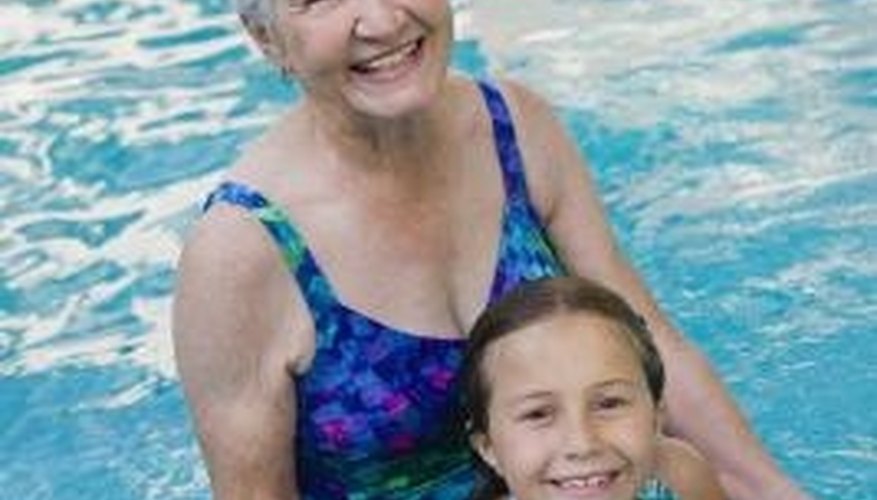 Purchasing your first above-ground pool can be an exciting time. Besides needing adequate yard space, a lot of water and a good pool installer, there are several things you need to purchase in addition to the pool itself. Items that are a must for any pool include a ladder, filter system, vacuum and chemicals. Maintenance is key to clear water and these items are critical to ensuring this.
Filter
The above-ground pool filtration system is the lifeblood of your new investment. Filter manufacturers produce three different kind of pool filters: cartridge, sand and diatomaceous earth also known as DE. The cartridge filters are easiest to maintain, but DE filters are the most efficient and require more maintenance. Sand filters use sand to trap dirt, and every few weeks the sand inside the filter must be rinsed free of dirt. The processes for cleaning sand and DE filters are similar. They both involve backwashing, but a DE filter has to have its powder replaced, while the sand inside the filter is rinsed internally. The choice here will be influenced mostly by price, pool size and your preferred method of maintenance. The cartridge filter is easiest because you remove the cartridge from the filter, clean it off and return it to the filter housing.
Ladder
Pool ladders are usually adjustable between four and five feet. However, fixed sizes are also available. The price of pool ladders can drastically fluctuate mainly due to how the ladder is constructed. Popular ladder materials include resin, plastic and aluminum. In general, the more sturdy the ladder, the more costly it is. A sturdy ladder is useful for heavier people and elderly individuals who need more support to get in and out of the pool. If you have small children, a safety ladder that folds up from the outside and locks is also a wise choice.
Vacuum
Vacuuming must be performed every few days or as needed. The filter is not capable of sucking in and trapping every particle of dirt. Therefore, occasionally heavier dirt particles or rocks may sink and settle on the pool bottom. That is where vacuuming comes into play. For those who don't want to use the cheaper manual attachment connected via a pool hose to the filter, there are automated vacuums that come in manageable price ranges. These automatic vacuums will survey the pool bottom and pick up the dirt and debris.
Chemicals
Pool shock your pool when you first open it. Purchasing a case, or 4 gallons of pool shock. If you choose to use a chlorine-based system, then you need chlorine. The best deal for chlorine is to buy it in large quantities because it's cheaper. You'll eventually use all of it, so it's wiser to buy it in large amounts. You will need test strips to measure chemical levels such as chlorine, pH and alkalinity. You should buy pH and alkalinity adjusters as well. Buy these in small amounts because they are not used as much as the chlorine. For those allergic or sensitive to chlorine, other non-chlorine systems such as Baquacil work similarly to chlorine.