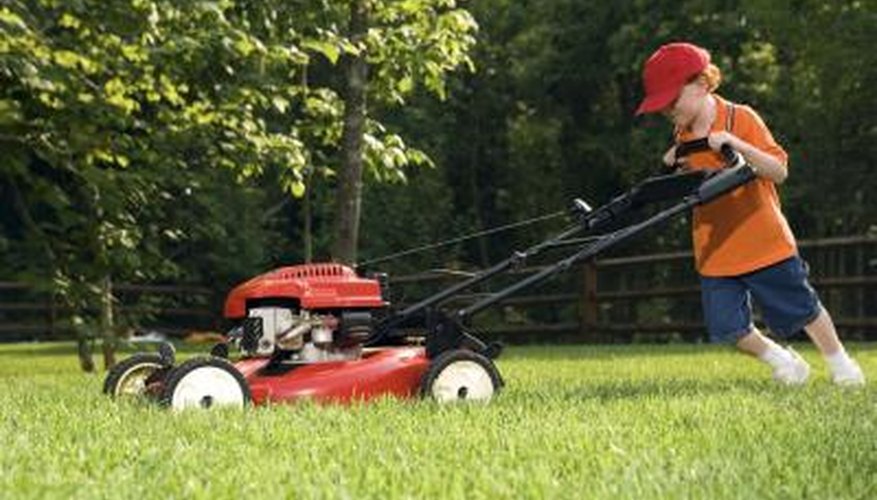 The idea of having the best-looking yard on the block often brings forth visions of heavy maintenance, hard work and high costs. While there isn't such a thing as a truly no-maintenance front yard, several planning tips can take the maintenance level down to almost nothing. Several very-low- to no-maintenance landscaping ideas can boost the curb appeal of your home while still offering a warm invitation to visitors and passersby.
Proper Plants
If you want an almost-no-maintenance front yard but still want plants, go after well-adapted plants that will add color and texture without breaking your back. Plants you want to look for are those that require little watering, no pruning, are native and are adapted to the growing conditions your yard provides.
For example, if you live in the Midwest and have a shady yard, you don't want to plant African daisies (Arctotis x hybrida) in the ground as perennials because these flowers grow in U.S. Department of Agriculture plant hardiness zones 9 through 11 in full-sun. Your better bet would be a shade- and cold-tolerant southern maidenhair fern (Adiantum capillus-veneris), which grows in USDA zones 5 through 8. This native, low-maintenance fern offers delicate foliage for rich texture in shady areas.
Many nurseries offer selections of native plants that have evolved to grow in the soil of your region. In addition to native plants, many nursery tags help you decipher the maintenance levels with labels such as "low-maintenance" or "no-fuss." Choose varieties that are resistant to common pests and diseases, another characteristic generally listed on plant tags.
Decor vs. Plants
One of the simplest ways to cut down the maintenance in your front yard is to skip the plants and go with stone or other decor materials. When you go this route, you take away the work involved with plants, including pruning, watering and fertilizing.
Add visual appeal and function by placing outdoor furniture in a bed instead of plants. Kick up the color with colorful flower pots, gazing balls or blown-glass garden ornaments. In doing so, complement your home's existing color scheme. Instead of an accent tree or specimen, place a bird bath or statuary in the area.
Eye-Catching Specimens
Although you may have had the idea of a lush, flowering landscape in your front yard, a few strategically placed accent plants or beds can greatly reduce the maintenance level required. A small weeping tree or flowering shrub with low maintenance requirements, for example, can draw the eye to a specific location.
A weeping redbud (Cercis canadensis 'Covey'), which grows in USDA zones 5 through 9, provides an eye-catching specimen year-round. While this variety can grow 8 to 10 feet tall if you stake a central branch while young, it rarely reaches over 5 feet tall naturally. Gracefully weeping branches produce a profusion of purplish buds and blooms before the tree leafs out; large, green, heart-shaped leaves follow through autumn. Even in winter this tree stands out with bare, weeping branches. Native to eastern and central North America, this species and cultivar thrives on a wide range of soils and in full- or partial-sun.
Dedicating one large flower bed full of low-maintenance plants can also help reduce your overall maintenance in years to come. Slightly crowd plants in a mass planting so that they barely touch at maturity. This helps keep weeds down while also providing a visually interesting focal point.
Reduce the Lawn
While pruning, dead-heading, fertilizing and watering all take a great deal of time for front landscapes, almost nothing takes as much time and energy as mowing. If you don't use your lawn, reduce your front yard turf and replace it with mulch, rock or ground cover. Unlike turfgrass, ground covers don't require mowing and are relatively maintenance-free when planted in the proper locations.
Several plants make ideal, low-maintenance ground covers that provide more texture and appeal than standard grass lawns. Wild ginger (Asarum canadense), a North American native, grows in USDA zones 4 through 6. This dense ground cover reaches 1/2 to 1 foot tall and thrives in moist to wet, shady locations. If you have a dry, full-sun front yard, consider plantain-leaved pussytoes (Antennaria plantaginifolia), which grows in USDA zones 3 through 8. This North American native thrives in dry to medium soils, especially rocky or gritty areas. Like wild ginger, this species stays short and creates a visually interesting ground cover.