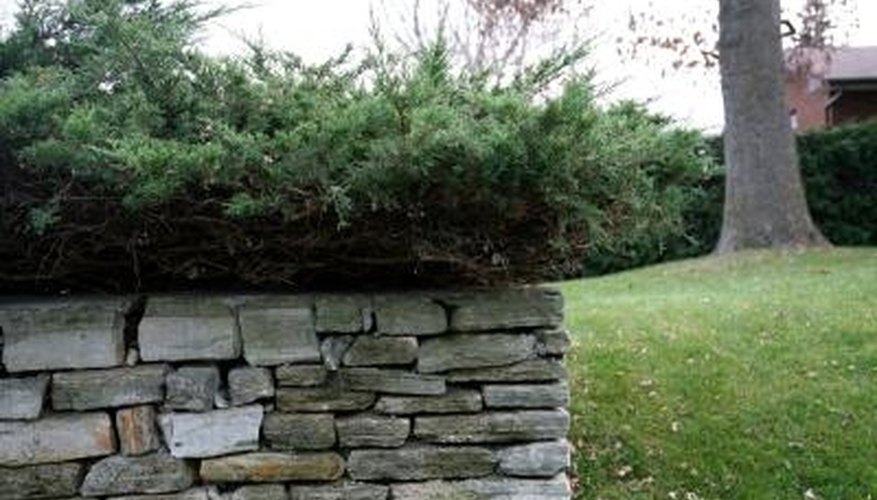 Jupiterimages/Photos.com/Getty Images
Decorative concrete blocks range from rough to smooth in many sizes, which makes them ideal for all types of landscaping. Available in different textures, shapes and colors, concrete blocks can easily blend with your garden and home style. Whether you're planning a small patio wall or a large landscaping scheme, the various types of concrete blocks should be able to fit your needs.
Three-way Split
The three-way split block style offers a highly textured look that is desirable for landscaping. Its natural beige color complements many types of plants. The corners are split off the face leaving a chipped, rounded surface. This style allows the blocks to fit in tight spaces. Curved walls use three-way split blocks to maintain the radius.
Flat Face
Another favorite block used in landscaping, the flat face block has sharp corners. With an even-textured face, its chiseled stone appearance is a good choice for straight garden fences. Like the three-way split, flat face blocks blend well in any type of landscaping design. Flat face blocks stack well in uniform patterns, and are available in light to medium beige color.
Tumbled
A hybrid of the flat face block and the three-way split, the tumbled block has a weathered look. The edges are rounded and chiseled to soften the block with an aged appearance. The rustic appeal is enhanced by mixing different length tumbled blocks to add variety to a design.
Mosaic
Also called ashlars, the mosaic block style is a variation of tumbled blocks but in varied lengths, widths and heights. This is the most diverse block for custom-fit designs. Mosaics work best for straight walls, but can be cut for curved walls. Working with mosaic blocks is similar to assembling a jigsaw puzzle and adds time to the construction process.
Patterned
The most expensive decorative concrete blocks are patterned blocks, which are mostly used for walls to add decoration. Smaller in size and weight, patterned blocks make good patio walls and edging around garden spaces. Common motifs are geometric, art deco and floral.
Advantages
Naturally heat-resistant, concrete blocks offer excellent fire protection and good energy insulation. Stronger and more stable than brick and wood, the blocks hold up better under severe weather. Concrete blocks can be dry-stacked without mortar or built with mortar for added strength. Known for its durability, a concrete block often lasts for many years needing little repair.
Disadvantages
Cost and weight are the major drawbacks with concrete blocks. More expensive per square foot than brick and wood, blocks can add hundreds of dollars in material and labor costs. The weight of blocks make them difficult to move into place. A full-size solid block, 18 inches long and 8 inches high, can weigh 50 pounds. Half-size or accent blocks usually weigh 20 to 25 pounds.