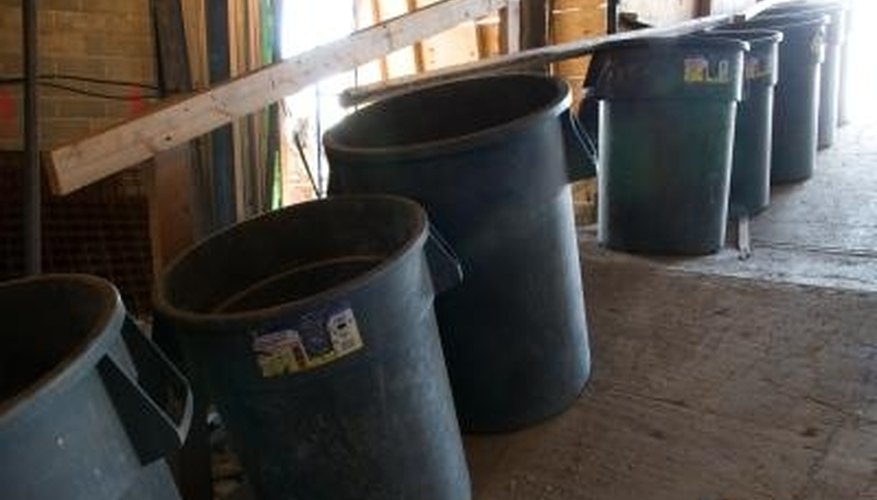 Construction barriers play a critical role in protecting workers, the public and the environment around a building site. These devices, which come in many forms to suit the needs of different applications, help control vehicle and pedestrian traffic to reduce the risk of injury or death. Maximize safety on your next project by choosing construction barriers based on your project's layout, site conditions and local building codes.
Concrete
Concrete construction barriers consist of precast forms used to block vehicles and pedestrians. When used on a highway project, these temporary concrete barriers protect work crews from traffic and help keep equipment and tools contained within the work site. They may also be used to line a building project located near or on a roadway. This keeps cars from striking workers, while preventing crews or machinery from venturing into the path of traffic. They may also protect pedestrians from both traffic and construction work by keeping them on a designated path. These walls often include anchors to hold them securely in place and reflective markings to increase visibility.
Plastic
Plastic barriers serve as an economical and lightweight alternative to concrete. They are used to alert vehicles and foot traffic to construction activity. When filled with water or sand for weight, plastic barriers can be an effective, yet reusable, method of safely stopping vehicles or other outside traffic from entering near the work site.
Fencing
Many building codes require contractors to use safety fencing around a construction site. This fencing, which may consist of chain-link or plastic mesh, helps warn pedestrians where construction activities are taking place. Fencing also keeps construction-related tasks contained within a designated area.
Some areas also require a special fencing, known as silt fencing, to help protect the environment around a site. Silt fencing acts as a barrier against soil and sediment and helps prevent construction-related pollutants from reaching local waterways.
Guardrails
The U.S. Occupational Safety and Health Administration, or OSHA, requires guardrails and other construction barriers on job sites to help prevent workers from falling. Guardrails, handrails and toe boards may be used along the edge of an elevated platform or at temporary openings at stairwells, shafts and other potential hazard areas. They are often combined with warning tape and other barriers to alert workers to the presence of a potential hazard.
Safety Nets
Safety nets protect people and property from falling tools or materials. At building construction sites, these nets can protect pedestrians on the sidewalk from injury or death. On some projects, safety nets are used to protect crews working at high elevations. The right type of safety net can act as a primary or back-up fall arrest system, helping to save lives in the event of an accident.