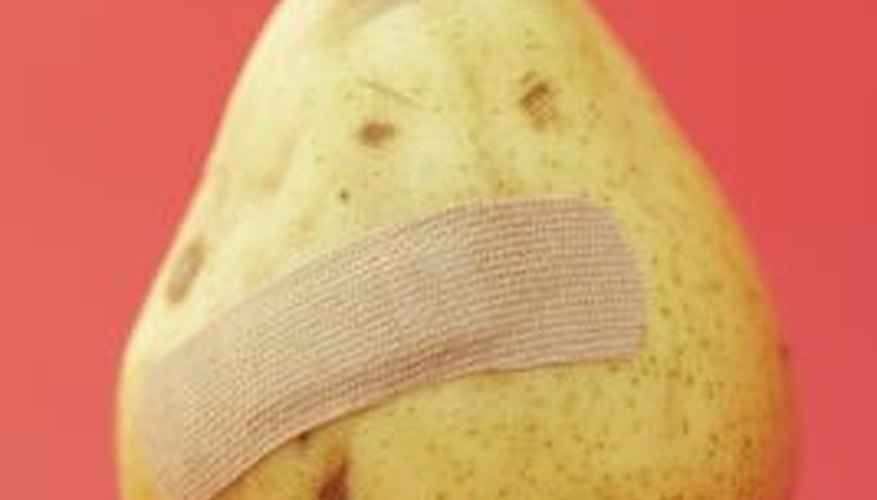 Ripen pears to a perfect, juicy, softened state. To do so, understand how a pear ripens and what you must do to place the pear in a proper ripening state. If a pear becomes over-mature, the quality declines greatly. And if picked too soon, the pear may never ripen. Whether the pear ripens after picking depends on when you pick it and how you facilitate the ripening process.
Slightly Immature Is Best
Pears picked when just a little bit immature ripen to a sweet, soft-fleshed pear than an over-mature pear does. Determine if the pear is ripe for picking from the tree by gently cradling it in your hand. Tilt it into a horizontal position. It should easily detach from the branch.
Ripening Process
Fruits like apples are ready to eat the day you pick them, yet the pear must go through a ripening process. Ripen pears at room temperature or around 65 to 75 degrees F. During the ripening process, pears produce ethylene gas, a ripening hormone, that speeds up ripening. Commercial growers actually harvest pears at the immature stage and cool them down to about 30 degrees F to ripen them. Cold pears stay in good condition longer -- so the grower can transport them to your home for you to complete the ripening process.
Tree-Ripened Pears
If pears ripen while on the tree, they ripen from the inside first. This creates a soft center, but a harder exterior. By the time the flesh just under the skin is soft, the inside is mushy and possibly spoiled. The core starts to break down, and the inside may not soften at all, but become coarse and gritty.
Pear-Ripening Tips
Speed up the ripening process by placing a pear, along with a banana or apple, in a paper bag. These fruits also give off ethylene gas to give the pear a good start. You can tell the pear is properly ripened by holding it in your hand. Apply a little pressure with your thumb to the neck near the stem. It should yield to the gentle pressure to indicate it's sufficiently ripe. Most pears turn from a green to yellow color when ripened -- and some pears, such as the Bosc variety, wrinkle at the stem base when ripe. Fully ripened pears require refrigeration to preserve the pears for a few more days.