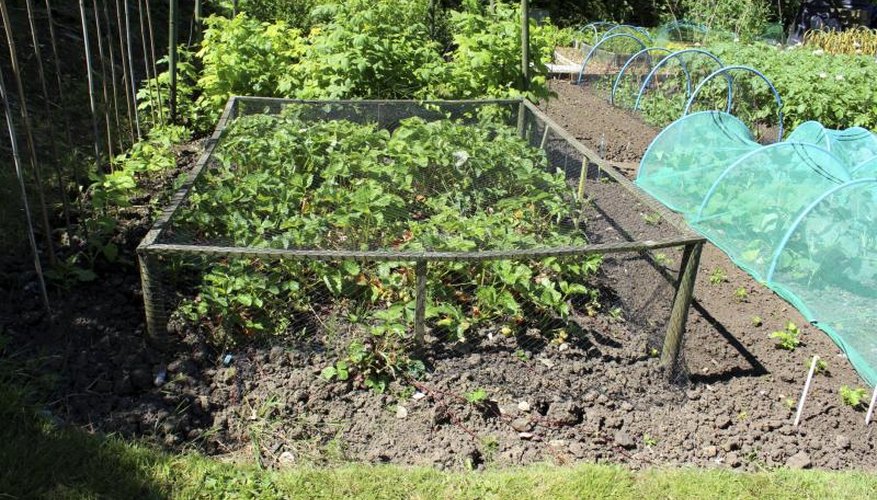 Netting's mesh can have holes of various sizes, from fine to 1 inch wide mesh or larger made from plastic filaments. Nettings serve a variety of functions, from excluding small- and medium-sized pests to tempering the climate by shielding plants from sun, wind and hail. Install most nettings over a framework of some sort so they don't touch the plants they protect.
Exclude Insect Pests
Fabric stores sell inexpensive, fine-meshed netting, often labeled as bridal tulle or wedding net, which has different sizes. It is either 60 to 90 inches wide. Fasten lengths together with staples placed 2 inches apart to fit your garden needs. Tulle excludes most insect pests, admits light, allows for good air circulation, and is easily lifted for weeding and harvesting. Organdy is a more finely woven fabric that keeps out even small insects. Look for used organdy curtains at thrift stores. Drape the fabrics over a pipe or wooden framework, attaching them to the frame with clips or clothespins. Weight down fabric edges with logs or boards.
Provide Shade
Commercial shade cloth woven from plastic saran or polypropylene comes in various shading strengths rated by the percentage of sunlight that passes through them. A 50 percent shade cloth, for example, lets in half of the light. More densely woven shade netting with smaller openings excludes more light and is heavy, so hold it well away from plants. Don't water plants through the shade cloth because water doesn't penetrate evenly. Either remove the shade cloth to water or support the netting on a framework so there's enough room to water the plants from under the shade cloth. Available in various widths and lengths, use shade netting to protect tender seedlings or for plants that need denser shade.
Keep Out Birds
A lightweight, more open plastic mesh, called bird netting, usually has about 1/4-inch-wide openings. Made of thin plastic threads, it's meant for use on berry crops and fruit trees. Use a framework to hold it well off berries or other small fruits, since birds can learn to perch on branches or the ground and peck through the netting. On fruit trees, use a piece of netting large enough so you can envelop the entire tree and draw the material together underneath it, fastening it against the trunk around the bottom so birds can't fly up underneath the netting to get at the fruit.
Netting Disadvantages
Finely woven, well-secured nettings can exclude pollinating insects. For leafy green vegetables that don't need pollinating, this isn't a problem. For crops that need insect pollination, either uncover the plants when they start blooming or leave portions open so bees and other pollinators can reach the flowers. Bird netting can pose a hazard to wildlife and beneficial garden visitors such as mice-eating snakes. They become tangled in the fine webbings and can't escape, leading to injury or death. Remove bird netting as soon as it's not needed and store it safely so it's not a risk to wildlife.