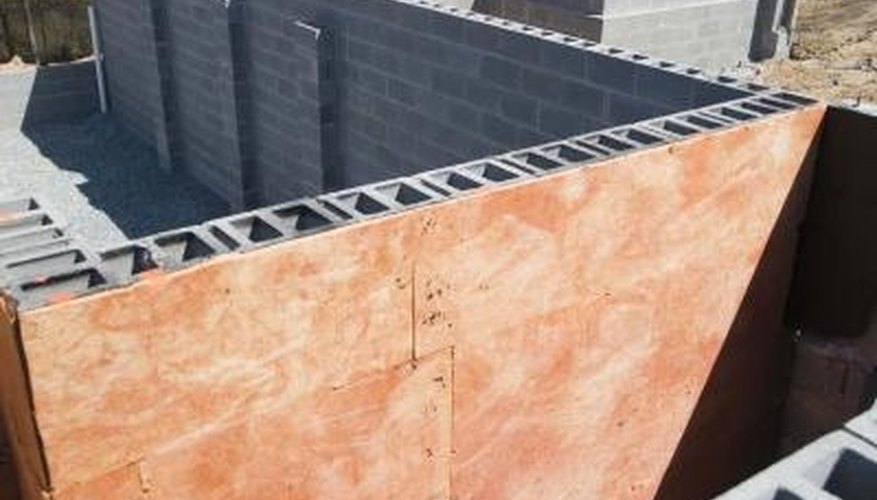 Concrete sealers are an important part of any concrete block installation, whether you are looking at your basement foundation or a backyard shed. Water damage is common for any type of long-term structure and knowing how to properly protect those structures from natural wear and tear is paramount to the overall longevity of your home or buildings. There are dozens of concrete sealers on the market, so choosing the perfect one is more about budget and personal preference than anything else.
Homemade Sealer
The most basic of all water sealers for concrete blocks, many homeowners opt for this when they are on a budget. While effective, a homemade sealer based off of linseed oil and mineral spirits requires regular maintenance, while commercial sealers often only require a one-time application. Even so, homemade water sealers are an easy way for the average person to protect their masonry without relying on chemicals, enabling you to stay "green" if you prefer.
Chemical Sealer
The most common type of water sealer on the market today, chemical sealants are perfect for masonry projects because they are designed to impregnate the blocks themselves to protect them against water, hardening, dust and eventual breakdown over time due to Mother Nature. These sealers penetrate the porous nature of the block and fill the spaces between the particles to block dust, dirt, water and other elements from entering.
Anti-fracture Sealer
Anti-fracture sealer is a more modern addition that has allowed for water sealers to include anti-fracture components within the chemical elements to help the particles within the concrete blocks bond together with more strength. Applies after installation, anti-fracture sealers also protect the concrete mortar in between the blocks as well, creating an impenetrable barrier between the elements and the interior of your structure.
Mold and Mildew Sealer
Most common in areas where heavy moisture is an everyday occurrence, mold and mildew sealers not only protect against moisture from water, but they also have added anti-bacterial properties that neutralize any form of mold and mildew before they have a chance to set in. This added protection means you can rest easy knowing your home is not only protected from water, but also from any buildup of potentially harmful bacteria over time.