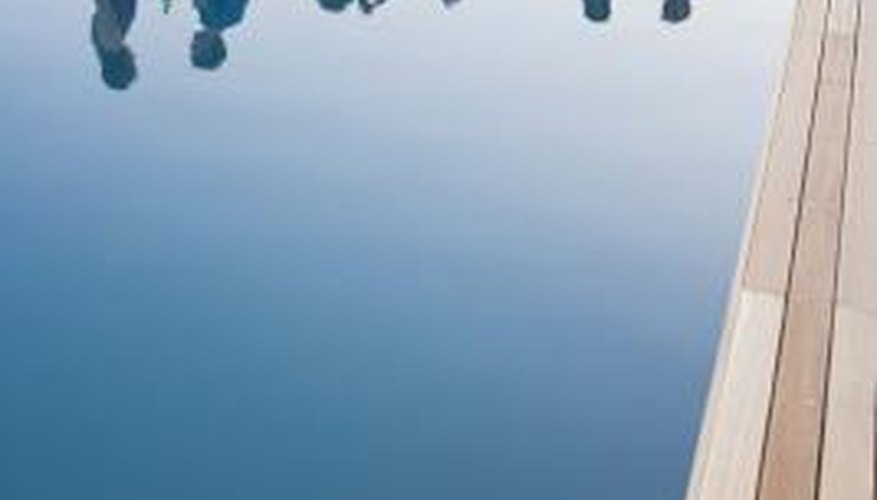 When patching a pool, you must use the correct adhesive for the job. The patch adhesive must be compatible with the vinyl used in the pool, for example. An incorrect adhesive can damage the vinyl liner of the pool or simply not adhere. Also, some adhesives are only made for use on a dry surface, meaning they require you to drain the pool to a level below the site of the damaged vinyl.
Manual Mix Kits
A two-part epoxy contains two different chemicals within one container separated into two different tubes. To extract the epoxy, you must push down a single plunger that causes the chemicals to flow out of the nozzles. You must then mix these chemicals together with a wooden mixing stick and apply them to the patch, which you'll then put in place.
#100 Vinyl Adhesive
This type of adhesive comes ready to use, packaged and premixed in one container similar to a toothpaste tube. Simply squirt the adhesive onto the vinyl patch and apply it to the pool liner. You can use this type of adhesive both underwater or out of the water.
Adhesive in a Can
Adhesive for bonding a vinyl patch to a pool liner is also available in a can form. These cans can hold a large amount of adhesive and are easy to apply; the contents come premixed and ready to use. As with #100 vinyl adhesive, the user can spread the vinyl adhesive onto a patch and apply the patch to the pool liner.
#500 Vinyl Adhesive
The #500 vinyl adhesive is available in a tube form and comes premixed, similar to the #100 vinyl adhesive. You must apply this adhesive to the patch and then apply the patch to the pool liner. Unlike the #100 vinyl adhesive, you should only use this adhesive on dry surfaces. You can also use it for other vinyl surfaces such as pool toys.