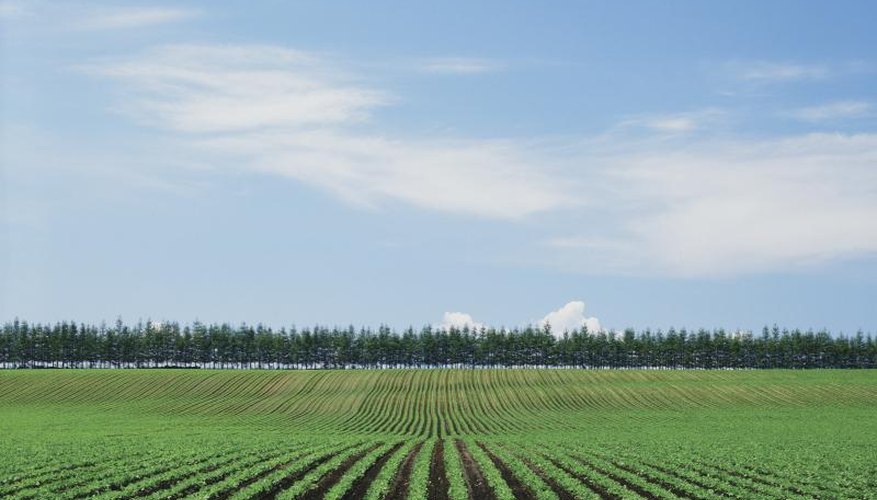 Like any business, a farm is more profitable when it is more efficient. Key to farm efficiency is the spatial relationship of fields and buildings. Location and distance must be considered when arranging the placement of farm structures. Depending on the type of farm and on neighboring properties, a farmer looks to reduce labor-hours overall while maximizing production per hour. Less travel and transport to and from outbuildings helps to achieve these economic ends.
Surveying the Property
Farmers will look at the land itself prior to putting their imprints on the landscape. The legal boundaries, abutting properties and nearest water supplies are of prime importance at the preliminary stage. Topography and elevation readings dictate how irrigation systems and drainage tiles are laid out. In the same way, surrounding roads influence how driveways and pathways are designed. Finally, the landowner will make sure that all legal impediments, such as restrictive covenants or easements, are accounted for.
Protection from Elements
Properties that slope toward the northeast are considered optimal in terms of receiving sunlight and, more importantly, providing a bulwark against strong winds. Yet there are ways to buffer the winds if the incline is not so favorable. Planting trees around the perimeter of the property is advisable. Moreover, planting trees around individual growing and foraging plots further defends the commodities while sparing neighbors some of the wind-borne particles and odors that are part of a farm operation. The placement of a storage barn or livestock housing can also serve to protect the fields from strong winds. Farmers benefit from a study of local weather patterns.
Soil Considerations
To keep soil fertile and healthy, both irrigation and drainage systems are necessary. Having calculated the slope of the land, a farmer will lay his drainage tile with a water destination in mind; he will likewise plan the irrigation with water sources in mind. Locating storage facilities for crops and livestock is best done with water flow in mind. Thus hay barns and hen houses should sit on higher ground with reference to runoff locations. By the same logic, fields should sit down-slope from their water source when possible.
Thoroughfares
Driveways and pathways should reflect in dimension the types of vehicles that will traverse them. The machines and conveyances used will, in turn, be based on the production volume of the farm. A main artery from the outbuildings to the nearest public road should include tributaries reaching the house, the storage barns and the sheds where the vehicles are parked. Gravel roads will discourage the formation of moss and peat. If space allows, the strategic placement of circles allows drivers to turn without backing up or making cumbersome maneuvers.