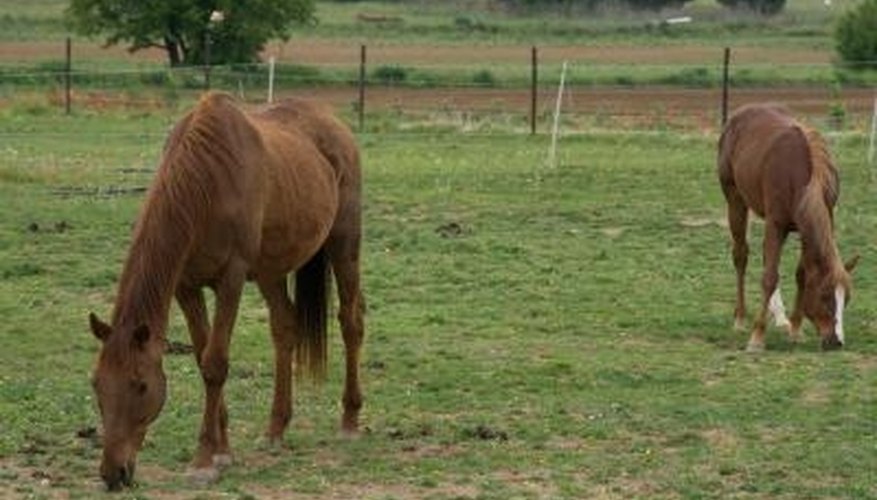 The preferred method for feeding horses through the growing season is to allow them to graze on a grass pasture. The best types of grasses in the pasture vary from region to region depending on climate. However, the grasses should offer a high level of production through the entire growing season and be palatable to the horse. The best grasses provide a level of nutrition that minimizes the need to feed supplements through the summer.
Bluegrass
Kentucky bluegrass is a commonly used grass for horse pastures in cooler climates. This grass grows most actively during the late spring and early months of the summer. Bluegrass forms shallow roots and requires a regular supply of moisture either from rain or irrigation. Bluegrass is among the most common pasture grasses although it often is an unintentional plant in the pasture. It produces best in the cooler temperatures with production falling off when air temperatures exceed 80 degrees.
Fescue
Fescue grows taller and more vigorously than bluegrass. It is also noted for forming a dense and durable sod. This makes fescue an attractive grass to plant in portions of the horse pasture that receive high traffic. The fescue grass maintains leaves into the fall or early winter season extending the grazing period beyond the growing season. The presence of toxic fungus, called endophyte, in fescue can cause reproductive issues with horses. Endophyte free varieties exist but are less hardy and not likely to produce as consistently as other varieties of fescue. Mixing fescue with clover or alfalfa improves the taste and nutrition of the mix.
Orchard Grass
Orchard grass is also a tall growing grass but does not form the dense sod of the fescue. This leaves orchard grass susceptible to trampling. Orchard grass would also be damaged if overgrazed for a long period of time making the management of the pasture and rotational grazing more important. If properly managed an orchard grass pasture will continue to produce for many years making its longevity one of its chief advantages along with its early spring growth allowing grazing sooner in the spring.
Mixes
The best grass pasture will be mix of several of the grass and legume species that thrive in your area. For example, a mix of bluegrass and fescue provides the benefits of the active growth of the bluegrass with the dense sod that stands up to traffic of the fescue. Which of the grasses will dominate depends on the time of the year and the weather conditions. Adding clover or alfalfa to the mix provides another option for the grazing horse. Limit the amount of clover or alfalfa to less than 40 percent of the pasture mix to limit slobbering from the horse.