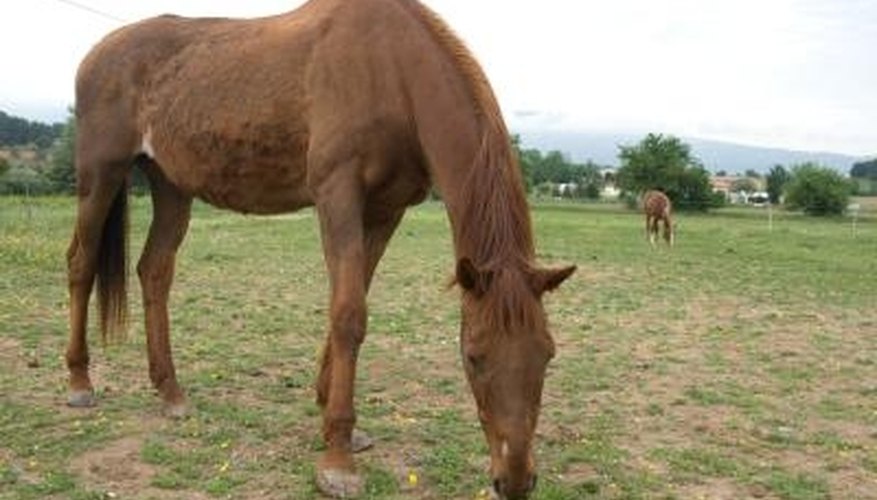 Oak trees are attractive and extremely common, with more than 60 different varieties growing throughout the U.S. Unfortunately for horse owners, the bark, leaves and acorns produced by oak trees are poisonous when consumed by horses. Acorn consumption by horses can have severe to deadly side effects.
Oaks and Tannic Acid
The bark, leaves and acorns of oak trees contain a bitter tasting substance commonly known as tannin or tannic acid. Tannic acid is a naturally occurring chemical that functions as an astringent. All varieties of oak tree contain relatively high amounts of tannin with white oaks containing the most.
Acorn Ingestion and Horses
Consuming tannin in the form of oak acorns will affect the way the horse's body ingests and uses protein. It can also cause liver and kidney damage if ingested in significant amounts. While consuming a single acorn in the course of normal grazing is unlikely to cause problems for a healthy horse, consuming high amounts of tannin or having a weak digestive system can lead to serious health problems.
Acorn Poisoning
There are a number of different symptoms that a horse with acorn poisoning might display, including a general loss of appetite, bloody urine or stool, colic, constipation, salivation, pain, irregular heart rates, a high temperature, diarrhea, liver failure, kidney failure and even laminitis. If acorn poisoning continues, the horse may die. There is no specific treatment option available for acorn poisoning, though veterinarians may attempt to reduce the damage by flushing the horse's system of the toxins and providing supportive care.
Preventing Acorn Poisoning
The best way to prevent a horse from experiencing acorn poisoning is to completely remove the risk. Horses should not have access to oak trees. Oak trees in pastures should be removed or fenced off to prevent consumption.
Some people may believe that horses are safe from acorn poisoning because horses generally do not intentionally consume acorns. However, anyone who has ever owned the equine equivalent of a vacuum cleaner can testify that some horses will eat absolutely anything that does not eat them first. These are the horses it is most important to protect from acorn consumption because they will be the most likely to suffer from acorn poisoning.
If you are unable to completely remove all acorns from the pasture, making sure that there is plenty of readily available healthy and safe forage for your horse to consume will reduce the risk he will decide to consume the oak tree or acorns.