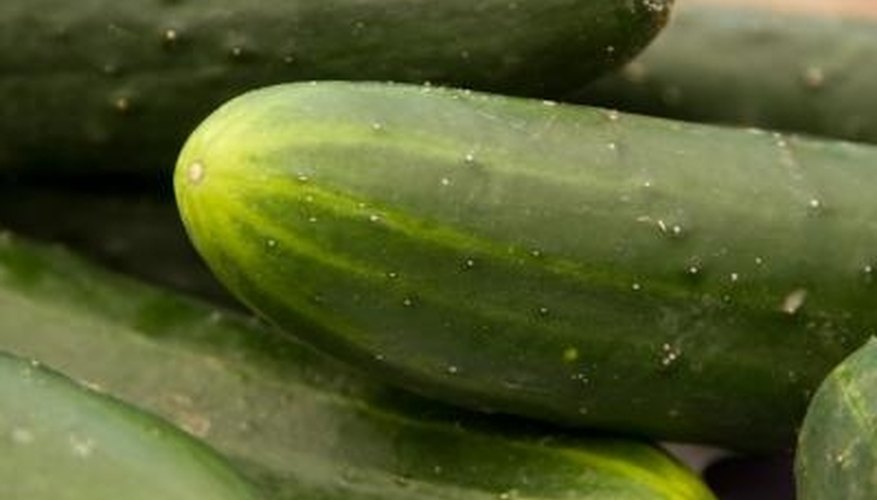 Cucumbers require warm days, plenty of sunshine and cool nights for best growth. They are a fast-growing crop ready for harvest in 50 to 70 days. If bugs are eating your cucumber plants, identify pests and apply the appropriate control measure to limit the damage.
Common Pests
Cucumber beetles are a problem on cucumber plants. These pests are about ¼ inch long with black bodies and long antennae. The adults may be striped or spotted. Larvae are whitish with three sets of short legs. Aphids are small, soft-bodied insects about 1/10 inch long. They come in a variety of colors from white to green to black. They feed in clusters and prefer the young leaves. Pickleworms have a yellowish-green ½ inch long bodies. Younger larvae are colorless with black spots on either side of the head. Cutworms feed on cucumber seedlings. They are soft-bodied caterpillars, which are the larvae of a night-flying moth. They are a variety of colors from pink to green to brown and curl up into a c-shape when disturbed.
Signs of Damage
Cucumber beetles feed on leaves and consume the flowers and the fruit. Aphids are sucking insects causing leaf curl, stunting, wilting of leaves and delay in fruiting. Pickleworms bore into parts of the leaf and stem, causing it to wither and die. They also bore into the cucumber fruit, ruining it. Cutworms cut the seedlings off at soil level or slightly below, preventing flowering and the production of fruit.
Organic Controls
Choose resistant varieties whenever possible. Using mulch around the plants reduces aphid infestations. Row covers help to control beetles, but must be removed for periodic weeding. Insect sticky tape traps insects for easy removal, according to the Cornell University Organic Pest Management website. A protozoan called Microsporidium spp. infects cutworms, and Bacillus thuringiensis, a bacterium, works as a stomach poison on insects that eat it.
Chemical Controls
Endosulfan is a chemical pesticide used to control bugs on cucumbers such as the pickleworm and cucumber beetle. Methomyl is also eliminates these insects, as well as aphids and cutworms, according to University of Florida entomologists. Other insecticides, such as carbaryl, imidacloprid and permethrin, are also used. Consult with your local agricultural extension service about the most effective pesticide for your area.