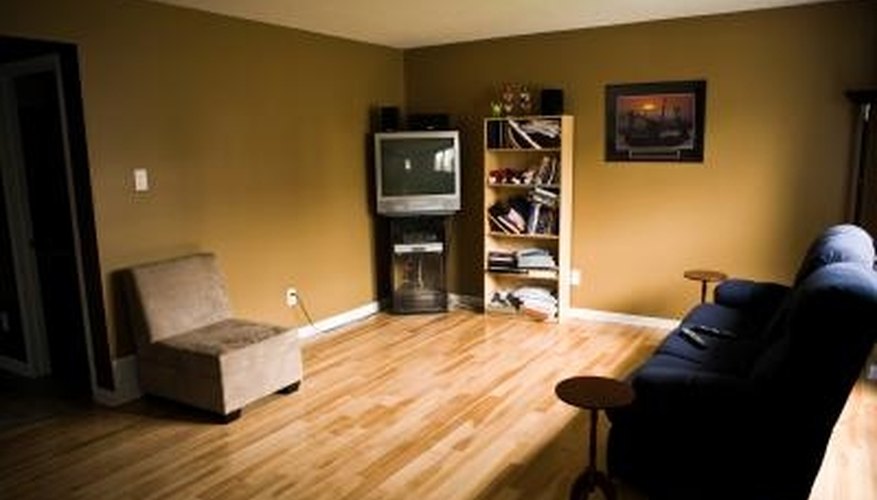 Several types of hardwood flooring are sold, and each requires installers to examine the existing subfloor before installation. Not all hardwood floors can be installed directly over concrete because these subfloors lack a significant moisture barrier. As wood naturally expands and contracts with fluctuating humidity, the wrong type of hardwood can buckle and warp if resting directly over concrete.
Solid Hardwood and Concrete
Solid hardwood floors are considered the classic option. Solid hardwood floors are composed of planks 2 1/4-inches wide and 3/4-inch thick, though there are some variations. This type of hardwood is the most sensitive to moisture, expanding and contracting with environmental changes in humidity. It should not be installed directly over hardwood; it will likely buckle and warp in response to fluctuating moisture levels.
Longstrip Hardwood and Concrete
Longstrip planks are several, long thin layers of wood adhered together. The top layer is typically composed of three narrow sheets of hardwood while the bottom layers are often of a softer, less expensive variety. Planks are typically 86 inches long and 7 1/2 inches wide. Longstrip planks are designed to be installed as floating floors, or floors that float above the subfloor as one piece rather than being fastened at regular intervals across the space. A thin pad is placed between the subfloor and the hardwood floor, providing a moisture barrier. With this moisture barrier, longstrip planks can be installed over concrete.
Engineered Hardwood and Concrete
Engineered hardwood planks are composed of multiple thin sheets of wood adhered together in opposing directions. Like longstrip planks, the top layer can be of engineered planks constructed of a more expensive wood than the bottom layers, giving the appearance of pricey solid hardwood floors without all the cost. This cross-ply construction also allows the individual sheets to expand in response to moisture and temperature changes without warping the planks, which is because wood naturally expands across its width; as each sheet expands, the ones opposing it counteract its effects. The result is a hardwood floor that is more stable and that can be installed over concrete slabs.
What Won't Make a Difference
Choosing finished over unfinished wood or a polyurethane finish over an acrylic-impregnated finish or 80-inch longstrip planks over 86-inch planks will not affect your floor's ability to be installed over concrete. The only decision that will affect that ability is what basic type of hardwood flooring you choose. Solid hardwood flooring cannot be installed over concrete while engineered and longstrip planks can.