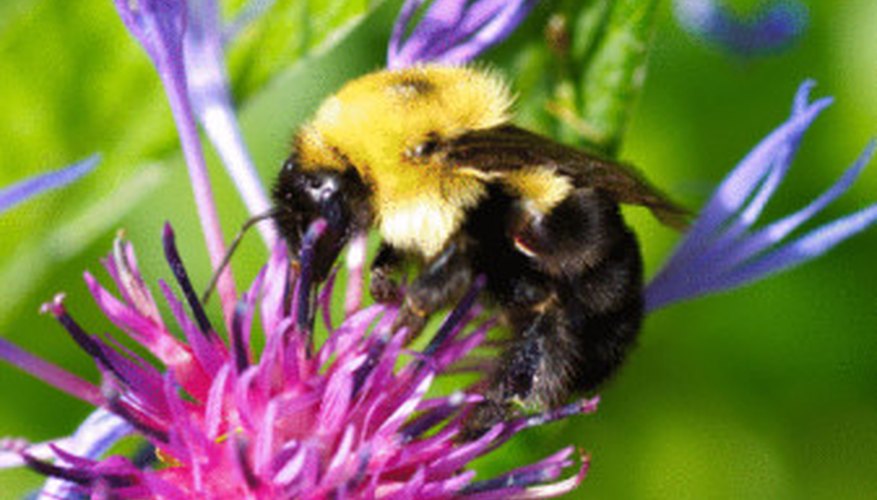 Florida is known for its hot, humid climate, and it is just these conditions that are conducive to the breeding of many kinds of insects. The most common flying insects in South Florida are harmless, but some can bite, sting and produce itchy welts on the skin of both residents and vacationers. Those people with allergies to insect bites should take precautions when traveling to South Florida.
Sand Flies
Often called "No-see-ums" because of their tiny size and big bite, these small gnats are less that 1/16-inch long and breed in sand, mud and around the edges of ponds, lake and other bodies of water. They are most active at sunrise and sunset during the summer months. They produce a stinging bite that can itch for hours afterward. Frequent application of insect repellent is recommended, according to University of Florida entomologists P.G. Koehler and F.M. Oi.
Love Bugs
Lovebugs are 1/4 to 1/3 inch long black flies with red thoraxes. Lovebugs have two major flights each year, one in late April and May and another in late August and September. They become a nuisance on roadways when their remains leave a sticky mess on the hoods and bumpers of automobiles. Adult lovebugs do not bite and are harmless. Larval lovebugs are beneficial in that they convert plant matter into organic matter that is good for soil and plants.
Wasps
Several types of wasps are found in South Florida, including the Paper Wasp. These are reddish-orange to black in color and grow to 3/4 to 1 inch long. They have a narrow waist and pear-shaped abdomen. Paper wasps live in colonies with queens that emerge in April or May to build papery nests on walls and other structures. They sting, producing a painful welt, if they feel threatened.
Bees
A number of bee species inhabit the South Florida area, most of which are beneficial in pollinating plants. Many of these bees will attack humans if they feel threatened, producing a painful sting on skin. Africanized bees are an aggressive species that can swarm in large number, causing serious injury to humans.
Dragonflies
Six different species of dragonflies inhabit South Florida. These insects have long narrow bodies and double wings and can be in colors of blue, green, brown, yellow and purple. They can grow up to 3 inches long with 8-inch wingspans. They eat other insects and are beneficial in limiting the populations of ants, termites and other bugs. Dragonflies are harmless to humans.
Palmetto Bugs
The famous Palmetto bug, a large roach-like insect that inhabits most parts of the state, including South Florida, can grow up to 2 inches long. It can use its wings to fly when necessary, but otherwise the wings act as a tough shield when they are on the ground. Despite their formidable appearance, they do not bite and are harmless to humans. They feed on many types of substances, including fruit, bread, paper, hair and other dead insects, according to FloridianNature.