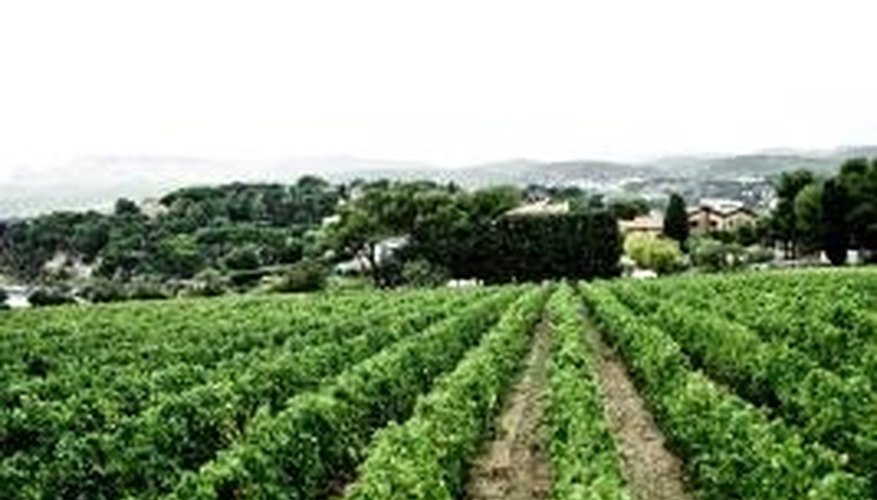 The equipment you will need for a 300-acre farm depends largely on what and how you plan on growing. Organic farmers will need slightly different supplies than traditional farmers. Additionally, some farm equipment can be rented when needed, or you can contract someone with the equipment to do the job for you. Much of the equipment you will need costs tens or hundreds of thousands of dollars new, and buying used items can save money.
Tractor
A farm of 300 acres is far too large to manage by hand, and one of the most essential pieces of equipment you will need is a tractor. At least one is required, but you may find you need two or three different size tractors to do different jobs. There are a wide range of tractors to choose from, but a good start is to look for a tractor with about 150 horsepower. Unless you plan on purchasing more than one tractor, select a tractor with wheels, rather than caterpillar treads, as wheeled tractors can be used for a wider variety of jobs. Additionally, dual rear wheels will help reduce soil compaction and give the tractor more traction.
Tiller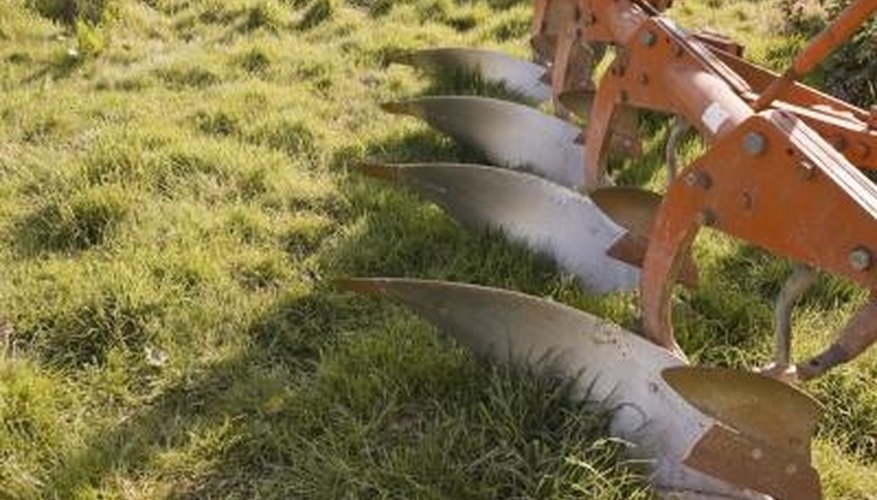 The basic tiller is the plow. Moldboard plows drag behind the tractor and dig a foot or so into the soil and turn it over. A chisel plow, or ripper, has long spikes that dig deep into the soil without turning it over. Chisel plows are part of a trend in no-till farming where the top of the soil, where the plant matter lies, is left on top rather than being turned under. There are advantages and disadvantages of each sort of plow and the soil conditions of your farmland will largely determine what you need.
Harrow
If you use a moldboard plow, you will need a harrow, or mulcher, to break up the large clods of dirt left by plowing. This gives a smoother surface for planting. There are many different types of harrows, some with spiked wheels that crush clods, others that use whisk-like rotors to smash clods. Some use angled knife-like attachments to cut clods, some use curved discs to slice clods, and still others use a combination of these options. Exactly which one you need depends again on the soil and the type of tractor you have.
Planter
You will need a tractor attachment to plant your seeds. Which one you need depends entirely on what you plan on planting. Planters for cereal grains are different than planters for corn and beans, for example. If you use crop rotation to help improve the soil and reduce pests, you may need two planters, although a carefully selected planter can be used for a variety of different seeds. A key consideration for row crops, such as corn, beans and onions, is the number of rows the planter creates. The row count should be the same for the planter, cultivator and harvester.
Cultivator
Once the crops begin to grow, it is a wise decision to cultivate between the crop rows. A cultivator lightly tills the soil between the crops to remove weeds and help loosen the soil, which helps water absorption. Cultivating is a good way to combat weeds without using herbicides.
Harvester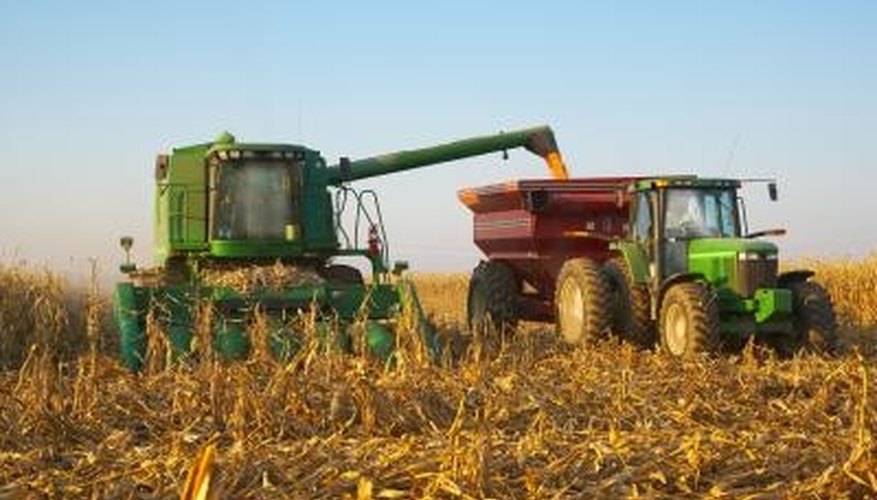 Like other equipment, the harvester depends on the crop and the planted rows. Harvesters, like combines, can be very expensive, sometimes in the hundreds of thousands of dollars, but harvesting is sometimes a job that can be contracted. In this case you will not need to purchase a harvester and you have more flexibility in what crops you can plant. Most harvesters will require at least one or two large trucks to haul the product.
Other Equipment
What you plan to contract, what crops you grow and how you plan to grow these crops may require additional equipment. Some examples are sprayers for pesticides, a ditch burner for clearing water ditches, a central-pivot sprinkler for irrigation, trucks for a variety of uses, fertilizer, diesel fuel tanks, and tools for changing oil, filters and general repairs of machinery.