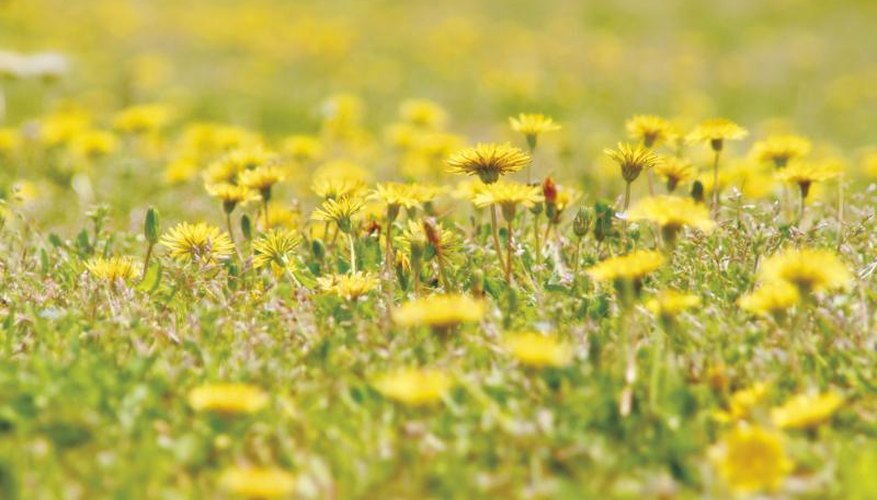 Dandelions (Taraxacum officinale) infest lawns, areas around shrubs and trees, vegetable patches, ornamental beds and other garden areas, but selective and nonselective spray herbicides provide effective control. Selective herbicides target certain plant types, such as broad-leaved plants or grasses. Nonselective herbicides damage most plants they touch. The best spray for controlling dandelions depends on where the plants are growing. Broad-leaved weeds that have long taproots, dandelions grow in U.S. Department of Agriculture plant hardiness zones 3 through 9. Put on long pants, a long-sleeved shirt, gloves and safety goggles before applying herbicide sprays.
Spray for Lawns
A selective spray that targets broad-leaved weeds controls dandelions in lawns. The chemicals 2,4-D, triclopyr, MCPA, and mecoprop help control dandelion without harming grass. Triclopyr, MCPA, and mecoprop control dandelion seedlings and weaken established plants. A spray containing 2,4-D is most effective at controlling established dandelions.
Apply a ready-to-use weedkiller spray containing 0.05 percent dicamba, 0.12 percent 2, 4-D and 0.22 percent MCPP on a dry, still day when temperatures are between 45 and 90 degrees Fahrenheit. Spray the herbicide on the dandelion leaves until just before it begins to drip. Don't apply this herbicide if the lawn is stressed from lack of water. Water the grass thoroughly and apply the herbicide three days later.
Around Shrubs and Trees
A herbicide spray containing glufosinate controls dandelion infestations around shrubs and trees. Glufosinate is a nonselective herbicide, and harms desired plants. It doesn't harm shrubs or trees as long as it doesn't touch green bark or leaves, and it doesn't remain in the soil.
Dilute a herbicide containing 11.33 percent glufosinate-ammonium at a rate of 3 to 4 fluid ounces per 1 gallon of water. Use the higher rate when the temperature is below 50 F, when dandelion cover is dense or during drought conditions. Spray the diluted solution on the dandelion leaves until it's about to run off.
Vegetable Patches
Glyphosate is a nonselective herbicide that controls dandelions in vegetable patches while the patches are bare. Controlling dandelions in vegetable patches is best done after harvest or before growing new plants. Glyphosate controls dandelion by moving through the plant to its taproot, but this herbicide also harms desired plants. Glyphosate doesn't stay in the soil.
On a dry, still day, spray all dandelion parts with a ready-to-use 2 percent glyphosate weedkiller. The chemical must travel through the plant to affect the root, and it can take two or three weeks for a noticeable effect. If dandelions reappear during the growing season, spray the vegetable patch again after the vegetables are harvested.
Ornamental Beds
Dandelions in ornamental beds are difficult to treat without harming desired plants, but you can protect plants you wish to keep. Covering ornamental plants with cardboard boxes or thick paper or plastic bags loosely tied at their bases with twine provides temporary protection.
On a dry, still day, cover the desired plants, and spray the dandelion plants with a ready-to-use 2 percent glyphosate herbicide. When the herbicide has dried, which is usually after about two hours, remove the coverings. If you accidentally spray desired plants, immediately rinse the herbicide off with plenty of cold, clean water.