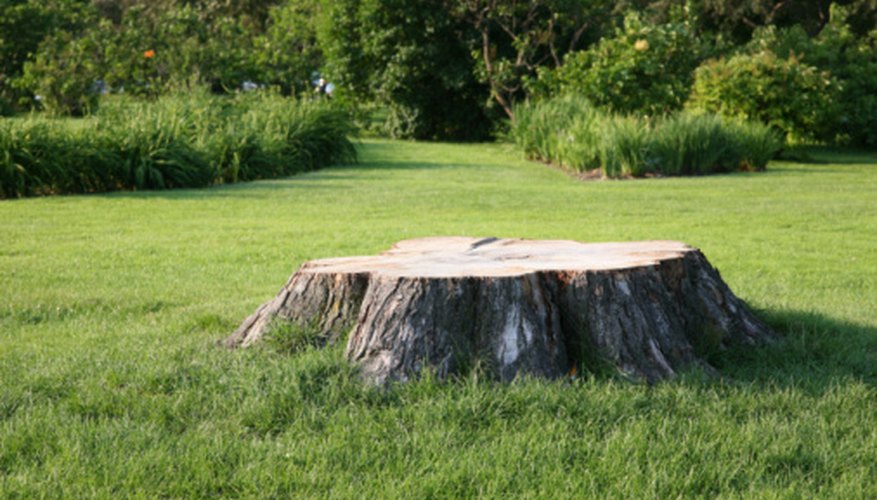 Clearing land for a garden invariably means removing a few trees, which results in a number of unwanted stumps. Smaller stumps can usually be dug out or cut flush with the ground to get them out of the way, but sometimes you must live with larger stumps. However, the good news is that with a bit of creative planning, stumps can actually be a boon in the garden.
Seat
Use a large stump just as it is for a handy stool in the garden; merely level the top, and smooth it with a rasp and sandpaper to avoid splinters. Make a more stable seat from smaller but sturdy stumps by adding a thick board to the top of the leveled surface. Use self-threading screws to secure it in place. If the stump is left high enough, you can create a convenient table for holding tools in the same way.
Planter
If you are comfortable using a chainsaw, cut into the top of the stump to create a hollow. Use chisels, gouges or rasps to deepen and smooth the resulting hole; add soil and plant a few flowers inside. Include ivies or trailing vines to cascade down the sides for a pretty, rustic planter. If you would rather not excavate the stump, you can get a similar effect using a large planter set on top of the stump.
Art
Give your garden a decorative touch using a stump as the base for art. Cut the stump level at 6 to 12 inches above the ground to make a sturdy plinth for statuary. Or cut the stump high, and mount an old-fashioned armillary sphere, gazing globe or sundial on top. Surround your decoration with a circular-shaped bed filled with fragrant herbs and flowers for a cottage-like focal point.
Trellis
A more practical use for a stump in the garden is as a base for a sturdy pea or bean trellis. Keep the stump as tall as possible, and drill holes into it around the sides near the top. Place wooden dowels into the holes all around -- so that it resembles the framework of an umbrella -- and run strings from those to stakes in the ground. Put seeds in at the base of each string, and train the growing vines to climb up and over the stump.
Birdbath
Few things are simpler to make than a garden birdbath. Use a tall stump as the base to hold a large ceramic saucer for an instant water source your feathered friends will enjoy year-round. It will attract bees and other beneficial insects to your garden as well. The same vessel will also work to serve bird seed, but place it away from cultivated beds or you may spend a lot of time weeding out volunteer millet and sunflowers.