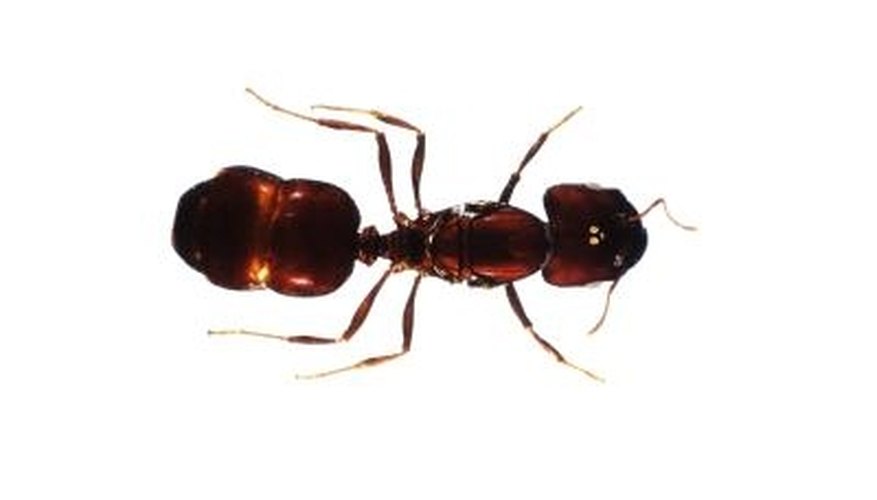 Ants outside are rarely of concern, but when ants begin invading indoor spaces, it's time to break out the ant repellent. There are potentially dozens of different everyday products found in the home that can be used to make a homemade ant repellent. Plus, making a homemade ant repellent is an easy way to save money.
Water and Soap
Plain water combined with a few drops of liquid detergent, such as dish soap, can be used to help repel and kill off invading ants. Simply pour the mixture into a spray bottle and spray as needed whenever ants are visible, or around doors, windows and cracks to deter the ants from entering the home.
Vinegar
White vinegar can be sprayed around areas where ants are appearing. The vinegar does not need to be watered down, simply fill a spray bottle with the vinegar and spray where needed, as needed, to deter ants.
Mint
Products containing mint, such as mint tea, or dried mint leaves or cloves, also can help repel ants. Leave the mint in an area where ants are frequenting, such as a crack in the floor or a door, and the mint will help to deter the ants.
Do Not Cross Lines
There also are several spices and oils that can be used to create a "do not cross" line for ants. Ants will not cross over cayenne pepper, black pepper, coffee grounds or cinnamon. Simply sprinkle the substance in a straight line along doors, windows or around areas where ants frequently enter the home.
Garlic
Fresh garlic cloves, when cut up into slices, can be used to deter ants both indoors and outdoors. Simply slide the slices into cracks or crevices, such as beneath a door or in between wood planks on a deck, to deter ants from the area.
Cucumber
Bitter cucumbers can be peeled or sliced and used as a natural ant deterrent, according to Earth Easy. This is because "ants have a natural aversion to cucumber," so it works well for deterring them from entering the home or a specific area.
Citrus Fruits, Oils
The rinds of citrus fruits, such as lemons, limes or oranges, also can be used to create a homemade ant repellent. Simply soak the rinds in water for a few days, pour the mixture into a spray bottle and spray where necessary. Citrus oils also can be mixed with water and used in the same manner to deter ants.