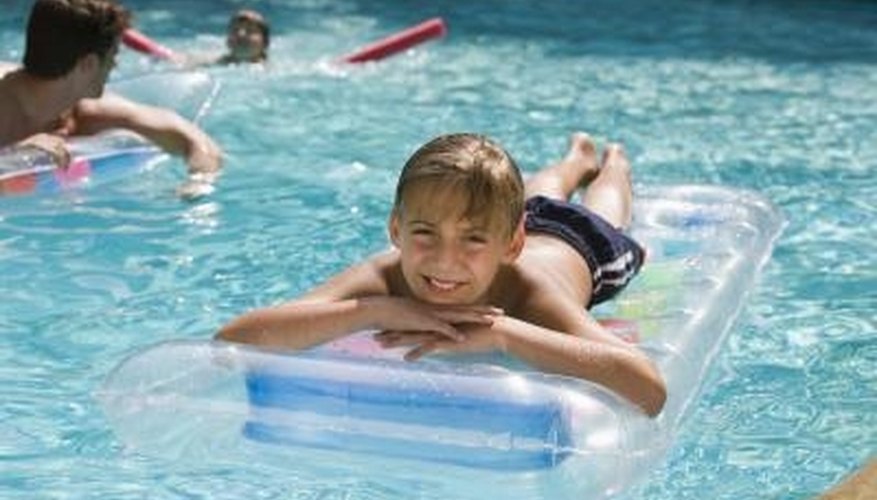 Jupiterimages/Comstock/Getty Images
Budget, the size of the plot of land the structure will occupy, and if the pool will be a permanent part of the property or moved at a later time are all factors in selecting the best swimming pool design. The type of assembly required is also an important consideration when choosing the best pool design.
Above-Ground Pools
Above-ground pools are inexpensive compared to other types and are available in kits, making assembly easy. The best configuration for easy set-up is a soft-sided design. This type of pool is made of durable, puncture-resistant material that is assembled in a matter of hours. A soft-sided pool may be placed on most surfaces including grass, sand, gravel, dirt and concrete. Additionally, soft-sided pools are easily movable without damaging the liner and other parts.
Hard-sided, above-ground pools are constructed of aluminum, steel or resin. This pool type requires more assembly than a soft-sided type and requires careful preparation of the ground it will rest upon. Hard-side pools are normally designed in a circular, oval or rectangular shape and may be moved, although taking them apart is more difficult.
In-Ground Pools
In-ground pool designs require constructing the swimming area in a hole dug into the earth. This method requires labor costs and additional supplies making in-ground pools more expensive than above-ground types. In-ground pools are available in three distinct types; concrete, fiberglass and vinyl liner. Concrete designs involve either pouring cement into forms to build the pool walls, or covering a frame of steel reinforcement rods with a concrete-type substance called gunite to make the sides.
Concrete in-ground pools are the most durable. Fiberglass pools consist of a previously made resin shell delivered and placed into an excavation. Fiberglass designs are initially about as expensive as concrete styles, however; these pools require less chemicals to treat the water and do not have liners, which can be damaged. The least expensive in-ground pool style is the vinyl liner type. This design requires installing the liner over a frame support that forms the walls and bottom. Vinyl liner designs require extra care to avoid puncturing or tearing the liner.
Above-Ground Pool Decks
Above-ground pools designed with a deck offer an improved way for swimmers to enter and exit the pool compared to using a ladder. Decks also provide a place for sunbathing and patio furniture, and are available in kits for easy assembly. Wood decks must withstand harsh weather conditions, making specially treated natural cedar and redwood common decking materials. Another material used is a plastic composite, which is often made to look like wood. Aluminum is also a common deck material, with certain above-ground pool kits offering an aluminum deck as part of the design.
In-Ground Pool Decks
In-ground pool designs provide an array of decking alternatives in addition to wood and wood-composite styles common with above-ground pools. Poured concrete is often finished in a choice of colors and is made to look like stones, tiles or bricks. Real stone is used to give a pool design a natural look. Additional options include tiles and deck pavers, each available in numerous shapes, sizes and colors often arranged in different patterns to accent a deck surface.
Resources