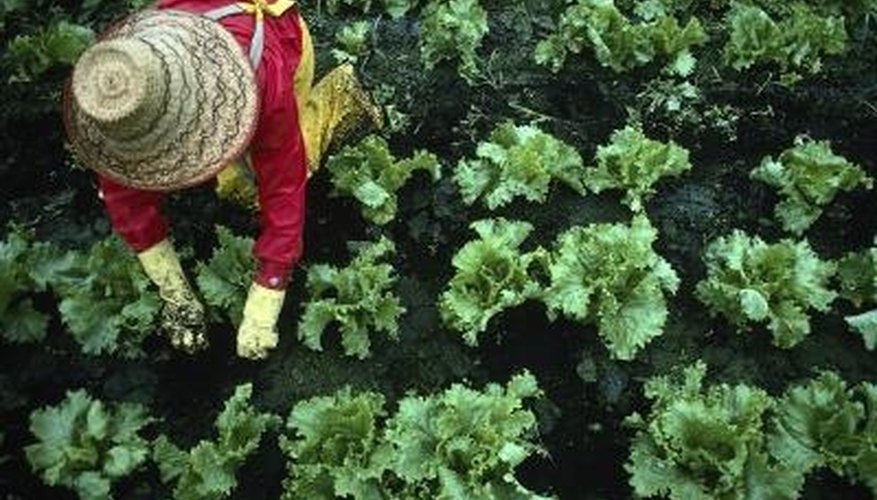 Growing fresh vegetables, herbs and other plants does not need to end when the summer is over. A fall garden can provide a cornucopia of crops to harvest and eat during the cool months. Plant seeds of a colder-season plant in August, or even September and beyond to produce a wealth of healthy stock that you can turn into salads, side dishes and more.
Root Vegetables
Many different root vegetables such as radishes, beets, turnips and rutabagas are suitable for fall crops. Fill your garden with these healthy foods during the late summer or early fall. Typically you can safely plant radishes between August 15 and September 15, beets from mid-July to mid-August, turnips through the end of Augusts and rutabagas until the beginning of August in many different areas. Although these date guidelines will work for many different U.S. growing zones, some climates may be either colder or warmer than others. As a cool-season plants, these root vegetables may not grow well in areas that have high late summer or early fall temperatures such as the deep south, southwest, or far west.
Leafy Greens
Often thought of as a summer garden standard, you can easily grow many types of leafy greens after the traditional growing season has come to a close. Plant leaf lettuce between August 1 and the beginning of September, and head lettuce from August 15 to the 31. These semihardy plants will grow during the early far with a harvest date approximately one to two and a half months after planting. Try the Grand Rapids, Buttercrunch, Salad Bowl, Romulus or Red Sails types of leaf lettuce or the Ithaca and Great Lakes head varieties. Another leafy option is the spinach plant. Packed with vitamins and minerals, this plant is a healthy source of magnesium, iron, folate, calcium, vitamin A and Vitamin C, plant this fall food crop during the first half of August for a September or October harvest.
Fruits
Some fruiting plants will yield a late season or fall harvest. One of the most notable fall fruits is the apple. According to the National Gardening Association, many varieties of apples have harvest times that vary between mid-summer months to the end of autumn. Another plant that bears fall fruit is the raspberry. Although many gardeners think of the raspberry as a summer-time fruit, everbearer types will produce an early fall crop for approximately two to three weeks. This include the August Red, Fall Red, Autumn Bliss and Polana. Additionally, some types such as the Encore, Latham and Royalty varieties have late season ripening times that coincide with fall planting.
Herbs
While herbs are not a main food staple, they are a much used seasoning ingredient for many dishes. Perennial or binannual herbs make an easy addition to a fall or multi-season garden. Many late summer herb plants can grow well into the fall, yielding a tasty blend of spices to your cold season meals. These include chives, Greek oregano, rosemary, sage and thyme.