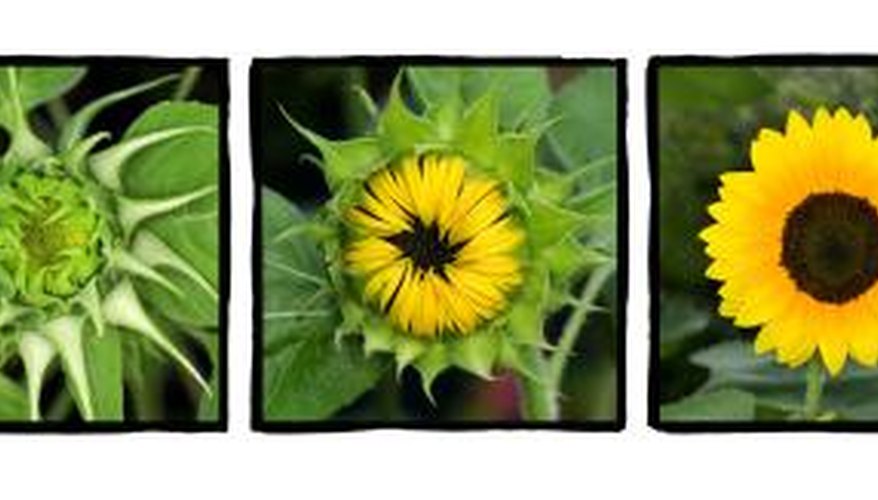 The bright faces of sunflowers (Helianthus spp.) in the garden range from the giant annuals (Helianthus annuus) to the perennial varieties that return year after year. When planting and transplanting sunflowers into the garden, plant the seeds and bedding plants in spring, as soon as the weather warms.
Planting Annual Sunflowers
The familiar giant flowers and seed heads of annual sunflowers provide a 6- to 12-foot-tall backdrop to the garden. Generally, annual sunflowers are planted from seed. The long taproot digs deep into the soil and grows best when undisturbed. When the seeds are first planted in peat pots or large flowerpots, the plants are stunted by transplanting stress and disturbing the taproots. Plant sunflower seeds in the garden after the last frost date, when temperatures rise above 50 degrees Fahrenheit. Annual sunflowers are also planted in succession through the growing season to provide a continuous supply of flowers and seeds until frost.
Plant Perennial Sunflowers
Perennial sunflowers are hardy in U.S. Department of Agriculture plant hardiness zones ranging from 3 through 9, depending on the variety. They die back in winter and sprout from the roots in spring. Perennial sunflowers form the backbone of the casual cottage garden, spreading into short or tall clumps covered with yellow to orange flowers. While perennials are also grown from seed, transplants are available. In general, perennial sunflowers should be planted in spring, when temperatures rise above 50 degrees Fahrenheit but before the plants begin growing rapidly in the warmer temperatures of summer. Maximilian sunflowers (Helianthus maximiliani) thrive in USDA zones 4 through 9, growing into 3- to 10-foot-tall plants.
Tuberous sunflowers, such as the Jerusalem artichoke (Helianthus tuberosus) -- also known as sun root and sunchoke -- should be planted in early spring as soon as the soil can be worked, or late fall in warmer climates. Like potatoes, larger tubers may be cut into sections, each with one eye, and planted immediately. Hardy in USDA zones 3 through 9, Jerusalem artichokes thrive in well-drained soils, dying back in winter and resprouting in spring. Jerusalem artichokes are a traditional Native American food, providing a sweet, starchy addition to the table.
Sunflower Planting and Care
While sunflowers are adapted to North American climates and soils, for more flowers, seeds and tubers, prepare a sunny garden bed with loose, well-drained, fertile soil. Dig in 3 to 4 inches of compost to a depth of 12 to 24 inches. Plant seeds 1-inch deep and 6 to 8 inches apart. Space tubers 2 feet apart, planting them 3 to 6 inches deep. Perennial transplants should be planted between 2 and 4 feet apart to accommodate the plants' mature size, at the same depth as in the grower's pot.
Water the sunflowers regularly, applying 1 inch of water to the garden weekly. Every three months, apply a slow-release fertilizer, using 4 tablespoons for every 4 square feet of soil. Water thoroughly after applying the fertilizer. A 2- to 3-inch layer of mulch raked over the garden bed and pulled 4 inches from the sunflower's stems helps slow water evaporation from the soil.
Plant With Caution
While most sunflower species reseed, and perennials grow back from the roots at the end of winter, use caution when planting beach sunflower (Helianthus debilis). It thrives in USDA zones 8b through 10, spreading by underground runners and seeds. It can become an aggressive invader in your flowerbeds. On the other hand, it is also drought- and salt-tolerant and grows quickly into a ground cover; if you live in an area with freezing temperatures, it can be grown as an annual, thus controlling its invasive tendencies.