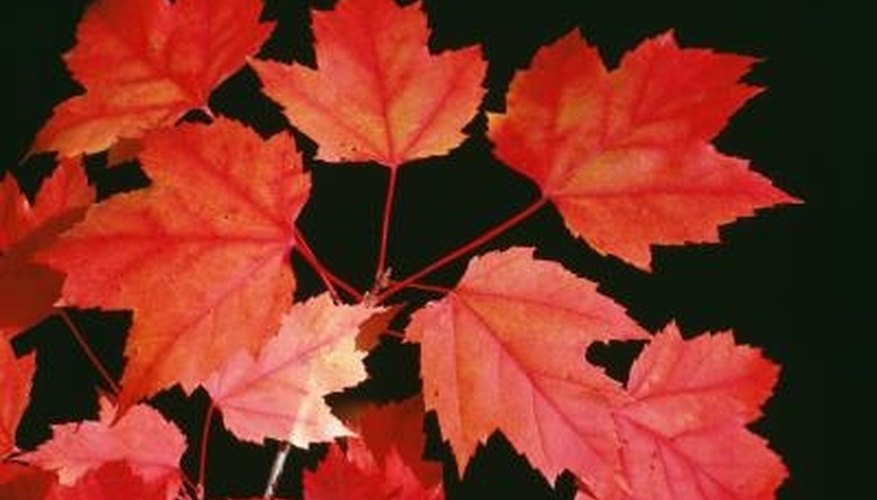 Red maples (Acer rubrum) are among the most prevalent tree species throughout many regions of eastern North America. These trees produce distinct, recognizable foliage that often earns them a place as an ornamental tree in domestic and urban landscaping. Red maples are close relatives of several other types of maple, including the sugar maple (Acer saccharum) and Japanese maple (Acer palmatum).
Origin and Climate
Red maples are native to the eastern United States; they can grow as far south as Florida and thrive in dozens of states, including those around the Great Lakes and in New England. This expansive native region highlights the red maple's flexible temperature tolerance. Other species of maple trees, like the Japanese maple, also prefer temperate climates.
Environment
Red maple is among the hardiest tree species that grow naturally in the United States. These trees tolerate various soil, moisture and other environmental conditions that many species cannot. Maples are generally healthier in well-drained soil, but they grow in moist areas much better than most trees. Red maples tend to grow in dry or sandy soil in the northern half of their native range, but they are more likely to occur in saturated, swampy soil in southern states.
Characteristics
Red maples are the second largest maple species in the Acer genus: They average about 50 feet tall, but some individuals can grow more than 100 feet high. The sugar maple (A. saccharum) is slightly larger, with an average height of 65 to 70 feet. Red maples reach maturity when they are about 70 years old, but they can live well beyond 100 years in a conducive environment.
Foliage and Flowers
The red maple is named for its distinctive red flowers, which bloom before the leaves appear in spring. The flowers grow in groups from the tree's stems as early as January and eventually produce a winged fruit called samara. Ripened samara are likened to helicopters as their shape allows them to twirl in the wind and travel great distances before reaching the ground. The leaves of the red maple are green throughout spring and early summer, but they turn to a vibrant red in the fall.
Uses
Red maples don't produce quality syrup compared to sugar maples, but they do have a use as ornamental and wood trees. The wood of the red maple is high-quality furniture lumber that is made into desks, chairs and other objects. Thanks to their resistance to adverse environmental conditions, red maples are also well-suited for urban and suburban landscaping. Their dense canopy of vibrant foliage makes them a good shade tree and aesthetic addition in lawns and along streets.