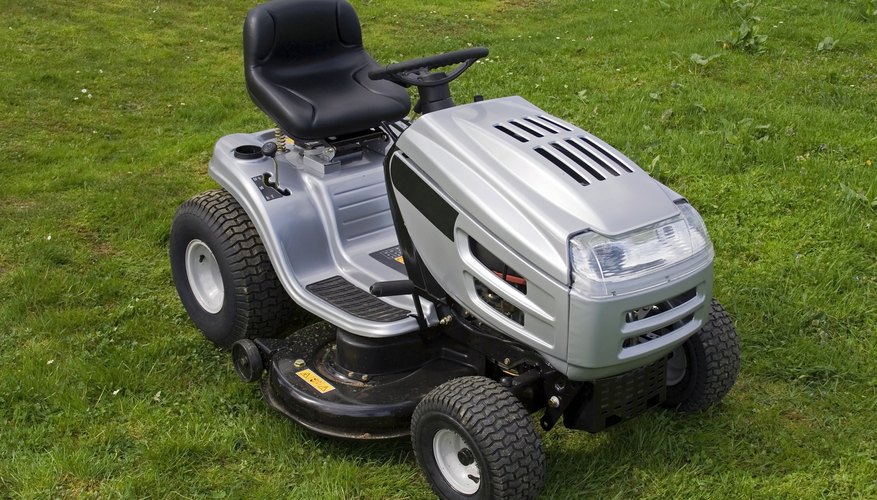 Mitja Mladkovic/iStock/Getty Images
Lawn maintenance falls under the "necessary evil" category for many homeowners, who love the look of a pristine sea of green but hate the time and labor of keeping that expanse properly tamed. The Husqvarna YTH23V48 is a compact yard tractor that provides a 4-foot-wide cutting swath and a zesty engine that makes mowing the lawn easier than pushing a conventional lawn mower. It even offers cruise control so you can take your foot off the pedal, take a swig of the beverage you stowed in the built-in cup holder and enjoy the ride.
Room to Maneuver
Knowing the overall size of the Husqvarna YTH23V48 is crucial when you're deciding if it's the right fit for your yard. If there are shrubs, trees or other obstructions in the landscape, measure the distance between each one to ensure there's room for the mower to pass between them. The Husqvarna YTH23V48 is 69.2 inches long and 50.7 to 59.7 inches wide, depending on whether the chute is up or down. It has a base height of 41.4 inches. Add your own seated height to the base height to ensure you don't knock yourself out driving beneath low-hanging branches. The seat lever adjusts the horizontal position; there is no height adjustment. Add a couple of inches to width requirements, especially if the shrubs or trees have exposed roots. The machine has a 48-inch-wide steel, powder-coated cutting deck and a turning radius of 16 inches.
Speed, Strength and Steering
The mower's hydrostatic transmission delivers speeds of up to 5.2 mph forward and up to 2.9 mph in reverse thanks to a 23-horsepower, 2-cylinder Briggs & Stratton Intek engine. The air-cooled engine runs on gas, and a 12-volt battery provides starting and running power. The machine's steering wheel gives you easy maneuverability.
Making the Cut
As most lawn lovers know, different species of grass require different minimum and maximum cutting heights, and the best height can be further affected by disease, drought, fertilizer and excess water. This mower offers adjustable cutting heights, from 1.5 to 4 inches, and anti-scalp wheels. A notched lever mounted on the fender and an electric clutch allow you to quickly change the cutting height of the three mower blades. The machine can be set to eject the grass clippings from the side, collect them or mulch them.
Maintenance and Fluids
The fuel tank holds 3 gallons of regular, unleaded gasoline. Use SAE 30 engine oil where outdoor temperatures are above 32 degrees Fahrenheit; SAE5W-30 oil should be used in temperatures below freezing. Machines with an oil filter use 64 ounces -- 1/2 gallon -- of oil, while those without a filter need only 60 ounces of oil. The machine has Champion QC12YC spark plugs with a .040-inch gap.
Warranty and Cautions
As of 2015, the Husqvarna YTH23V48 comes with a limited three-year warranty. For safety's sake, always turn off the mower before dismounting to make any adjustments, and keep hands and feet away from the cutting deck while the blades are in motion. In some states, such as California, a spark arrester for the muffler is required by law to help prevent inadvertent brush or grass fires. Check local laws to be sure your machine is in compliance.
Resources