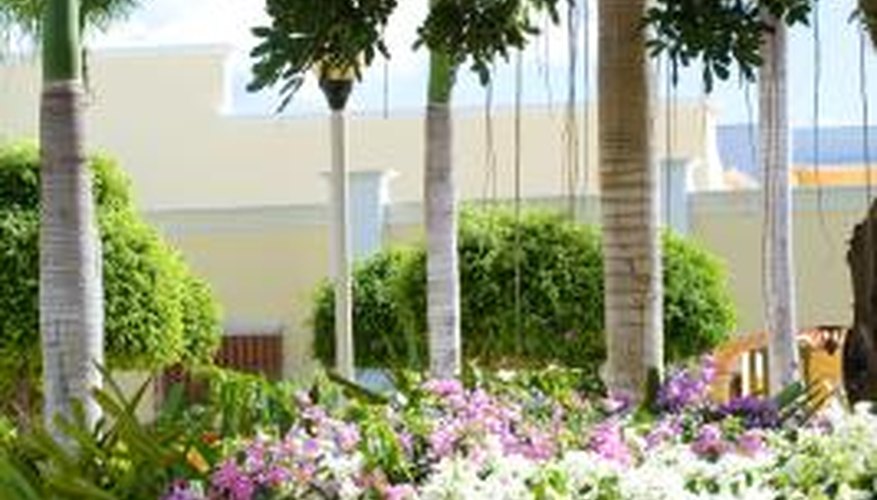 Trees provide a welcome shade to any garden or yard. Finding the right flowers to plant around them is challenging, but not impossible. Your best strategy when planting flowers around trees is to place them no less than one foot from the trunk to ensure minimal competition for root space, soil nutrition and water. While annuals are best under trees due to the shorter roots, certain perennials and bulbs also work well under trees.
Smaller Trees
Younger trees have smaller and sometimes lighter shade areas, allowing for more sun to shine on your flowers. Plant marigolds, a variety of annuals. Their orange and yellow flowers provide a burst of color under young trees and do not cause additional stress on the tree's root system. Geraniums are a good choice if your area is prone to drought. Be careful not to overfertilize geraniums, otherwise they will not bloom. For a fragrant cherry pie scent, plant the heliotrope, a low-growing subtropical shrub native to South America with small, bright lilac-colored flowers. Start heliotrope from seed for the most fragrant results and replant outside for a midsummer's bloom.
Shade Annuals
Several varieties of monkey flowers grow across the United States. Their native habitat is forested areas, making them a natural choice for planting under a shade tree. The bright colors attract hummingbirds, making the flower more attractive to bird enthusiasts. Depending on the variety, monkey flowers may emit a musky fragrance, giving them the nickname "musk flower." Impatiens are a traditional favorite of shade-loving annuals. They grow well in moist and well-watered environments and tolerate both shade and sunny conditions. These are warm-weather annuals that do not tolerate frosty winters. If they freeze, they will die and require replanting in the spring.
Shade Perennials
The periwinkle of the vinca minor variety is an enduring low-growing dense shrub with small purple-blue flowers. This is a good flowering ground cover for areas with moist soil around the tree. Siberian bugloss is another shade-loving perennial that provides good ground cover around your trees. Small, daisy-shaped purple flowers prefer morning sun and afternoon shade. This is an ideal choice if the area beneath your tree faces east. For small white and fragrant flowers, plant sweet woodruff. This ground cover works well in dense shade and emits a mild, fragrant scent.
Bulbs
Bulbs are often used to frame tall trees in park and garden settings. Most bulbs will return each spring after the last frost has passed, making them a reliable addition to the garden areas beneath your trees. Daffodils, tulips and crocuses bloom in the earliest parts of spring, before the dense shade of leaves develops. Don't plant your bulbs too close to the trunk of the tree and plant them right side up, otherwise you may encounter problems when it sprouts. Plant about one to two feet away to avoid hitting roots when digging the hole.