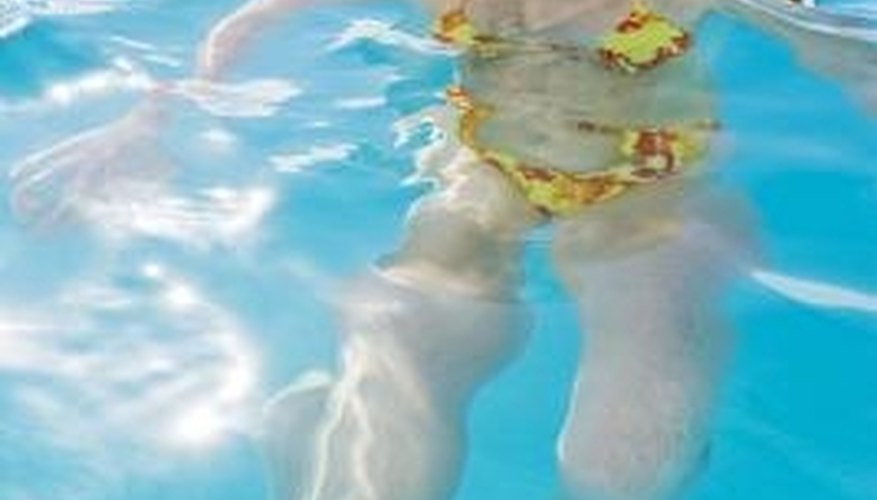 Algae in your pool can ruin your swimming experience. While most green algae is harmless and can be easily removed with nets and chlorine, other types such as yellow or black algae can require a lot more work. Scrubbing, super-chlorination and algaecide application are all required, along with follow-up maintenance. If you follow these steps correctly, you can get rid of algae in your pool permanently.
Scrubbing
Scrubbing everything that has had contact with the algae is the first step in ridding your pool of algae. While scrubbing loosens and removes all the visible algae, it also serves to break down the cell walls of unbloomed cells so that future chemical treatments are more effective.
Scrub all pool surfaces, including the immediate pool perimeter. Use a toothbrush to get those hard-to-reach spots such as pool drains and water return lines. Also scrub bathing suits, pool toys and even pool cleaning tools. Place all those scrubbed items in the shallow end of the pool.
Shock Treatment
Shock treatment is the second step in the cycle. Shocking your pool doesn't involve electricity. Rather, you apply extra chlorine to your pool to kill algae cells that haven't bloomed and any other remaining algae strains. Some algae strains won't die after one shock treatment, so repeated treatments may be necessary.
To shock your pool, take initial measurements of your pool water for chlorine levels, which should be between 1.0 and 3.0 parts per million (ppm). Follow the instructions on the concentrated chlorine package and add enough until chlorine levels are 10 times the initial reading. Once you've reached that level, let the chlorine sit overnight. If you have large, highly visible algae spots in your pool, consider putting chlorine tablets directly over those spots.
Algaecide
Adding algaecide is the final step in the cycle. You can get algaecides for your specific algae strain. While you may not need algaecides for green algae, other stronger strains such as yellow and black algae will definitely require application, since they have already bypassed your pool's chlorine levels and are still able to reproduce. Follow all the instructions on your specific algaecide container and wait 24 hours.
Follow Up
Following up is as important as initial treatment for ridding your pool of algae. Otherwise, your pool will only be algae-free for a few days before the familiar strains return. After the algaecide treatment waiting period, remove any floating algae strains and then backwash the filter to eliminate any more waste. Keep testing your water's chlorine levels every 12 hours until they reach normal levels. If you are still seeing floating algae, repeat the shock treatment and algaecide application.