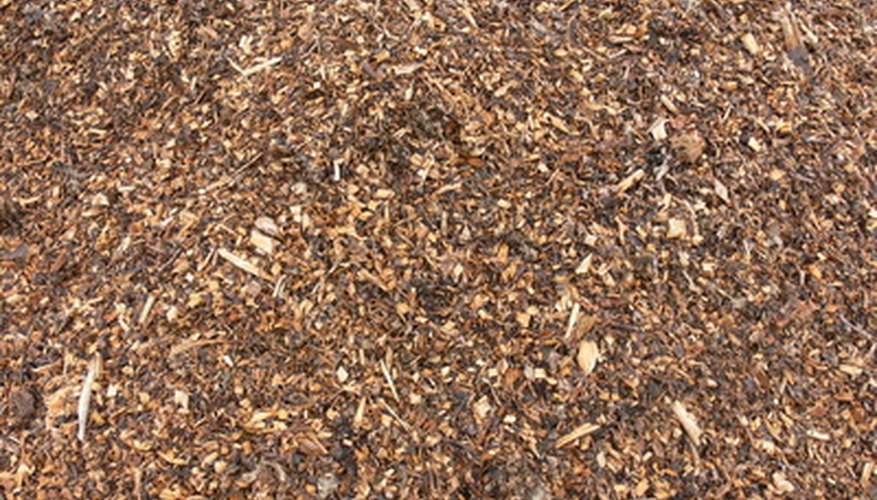 Red mulch is preferred by many gardeners for its striking color, which makes an appealing contrast against the color of lawn, vegetation and flower beds. Red mulch is usually made from virgin wood and scrapped pallets. The wood is ground into strips around a half inch thick and three inches in length. It is dyed red before commercial distribution. Dyed red mulch usually starts to fade after two years. Some red mulch products are naturally red as they come from the bark of trees with a red tinge, such as cedar trees.
Function
Mulch, including red mulch, serves a crucial role in stimulating and sustaining the growth of garden vegetation. It can also inhibit the growth of weeds, which can ravage a garden. Mulch provides essential nutrients and helps the soil retain more water that is vital for successful cultivation.
Application
Plant and vegetation areas should be thoroughly weeded before red mulch is applied. A 2-inch layer of mulch applied to the ground is usually sufficient to stimulate growth. The mulch can be spread out with a shovel and given a smooth finish with a rake. Avoid applying directly onto the stems of plants as this may inhibit growth.
Reflective Qualities
In addition to its aesthetic advantages, red mulch can also have some intrinsic growth benefits too. This is because the red tone of the mulch reflects more light onto plants, which can speed up and strengthen plant growth.
Moisture
The red dye present in mulch can rub off onto soil and lawns when moisture levels are sufficiently high, such as during heavy rainfalls. Bear this in mind if applying mulch close to your lawn edge. Despite the risk of staining, however, the dye used in red mulch is often non-toxic; however, not all red mulch is colored in the same way so be sure to check with your manufacturer if you have any safety concerns.
Artificial Mulch
Some manufacturers also produce rubber or plastic red mulch that can be laid out by flower beds or vegetable patches to create attractive displays.This artificial mulch won't help plants grow but is often used in ornamental gardens where color schemes, rather than fertilization requirements, are of prime importance.