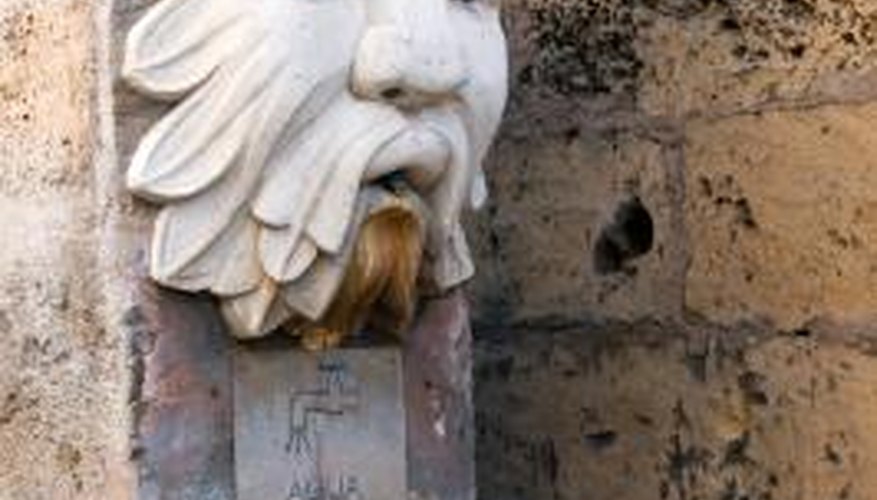 Fountains are a delightful, soothing addition to any home garden. Different sizes and types of concrete fountains can be purchased at home and garden stores or you can have a one-of-a-kind fountain built by a professional. Not much needs to be done to maintain concrete fountains, but occasionally you may find yourself needing to fix cracks in the fountain's basin. Fortunately, there is more than one option for this type of repair.
Epoxy Resin
Epoxy resin is a strong adhesive that can be brushed onto the surface of the fountain's basin. Although it is thick, it is fluid enough to run into even small cracks and soak into the porous concrete surface. As with any repair technique, the basin should be cleaned and completely dry before applying the epoxy resin with a paint brush. Epoxy resin is clear with a light amber tint, so it won't change the color of your basin. Applying two coats will ensure that the cracks are adequately filled and that the entire surface of the basin is reinforced.
Weather Seal
Weather seal is a rubber-type material that can be sprayed or brushed on, depending on what brand you purchase and how you prefer to apply it. It comes in colors or clear and is the material that is used to weatherproof truck beds, but it works great on concrete. You just need to make sure that the surface has been thoroughly washed off with water and is completely dry. The weather seal that you apply with a paint brush is easier to control, meaning you can concentrate it in the cracked areas of the basin to assure they are filled before you apply a coat to the entire surface.
Polymer-Based Cement
Polymer-based cement mixes are a mixture of cements, assorted aggregates and polymer resins. The polymer gives the cement an elasticity that regular cement doesn't have, making it more durable. It also means that it is perfect for repairing chips and cracks in concrete fountains. The cement packaging explains the mixing and application directions. In most cases you can simply smooth some onto the basin surface with a trowel, making as thick or thin a surface as you want. Another option with the polymer-based cement is to add color release to it when mixing so that you can match or change the color of the fountain's basin.
Rubber Membrane
Sheets of rubber are sold in home and garden stores mostly for constructing ponds. You can use one, however, to cover the surface of a basin in a fountain if you have excessive cracking. It can be trimmed to the size and shape of your basin and then covered with mesh and mortar to secure it to the existing fountain structure as well as protect it from rips and tears.