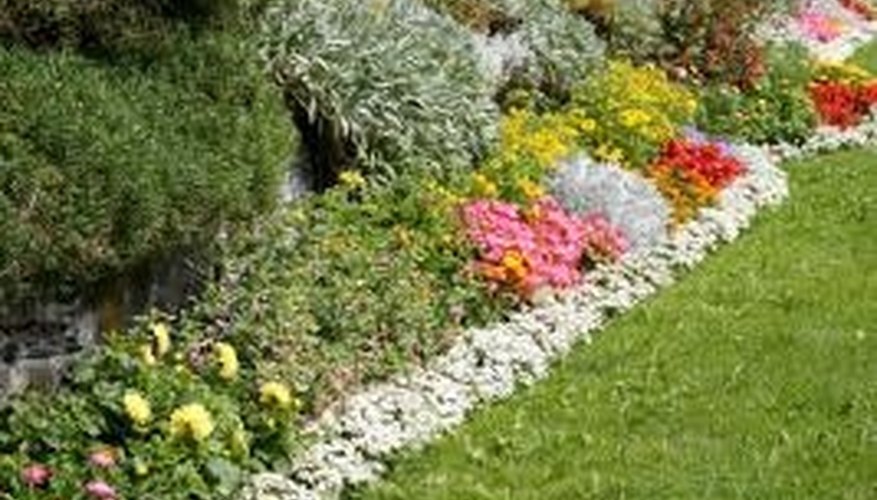 Spider mites are a very common garden pest that live in colonies on the undersides of leaves and produce distinctive silk webs. Spider mites thrive in hot, dry conditions and damage various plants by sucking nutrients out of the leaf cells, eventually killing the leaves. Such damage can result in unsightly damage to garden plants, reduced yields in fruit trees and loss of vegetable plants. Although chemical means are not necessarily the first choice to combat mites, some options are available.
Soaps and Oils
Horticultural oils and insecticidal soaps are two approaches to mite control that often have success. Examples are neem oil and dormant oil. Such products must physically contact the mites to be effective, so all affected areas of the plants, including the undersides of leaves, should be sprayed. Plants should be tested to ensure they will not be harmed by the particular oil or soap being used.
Miticides
Most common insecticides will not work on mites and, in fact, may make them worse by killing other insects which prey on the mites. Two insecticides that may work are acephate (trade name Orphene) and bifenthrin (Talstar). Miticides are chemicals specially designed to target mites, so these may have some effect, although their effect may be relatively weak. Other options include dimethoate (Cygon), chlorpyrifos (Dursban), diazinon, and malathion. Another chemical miticide is sulfur dust or spray.
Restricted Use Pesticides
Several especially strong chemical pesticides will kill mites, but these are restricted to commercial use only by licensed pest control experts. Some of the most common are avermectin/abamectin (Avid) which works well on two-spotted mites; hexythiazox (Hexygon), which kills developing larvae and eggs; and spiromesifan (Forbid), which works to kill mites but not their natural predators.
Other Control Measures
Since many chemical measures are either of limited use or restricted access, a number of other means to mite control are available. Non-chemical approaches include physically removing mites by wiping leaves and spraying plants with water jets. Frequent watering gives plants better resistance to mites as well. Introducing predator species into a garden can also be an effective means of control. Common predator species are lady beetles as well as other species of mites which can be ordered by mail.