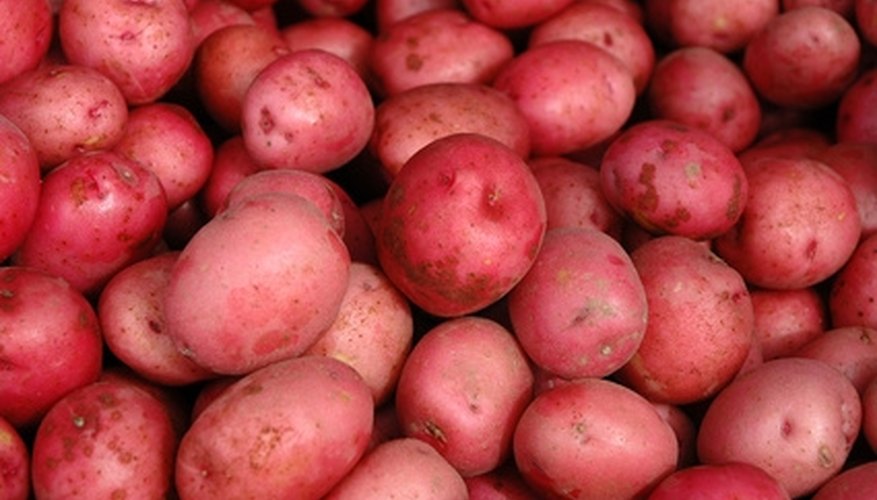 The New England tradition of new potatoes and peas for the Fourth of July requires planting early-maturing potatoes as soon as possible in the spring. This tradition causes many to believe that all potatoes must be planted in early spring, but that simply isn't the case. When you plant your red potatoes depends on the variety, your location and the expected use of the potatoes.
Early Potatoes
Early red potatoes, such as Norland, are often grown to be eaten as new potatoes. New potatoes are immature potatoes harvested when they are 2 to 3 inches in diameter. Plant early maturing potatoes for new potatoes in the spring as soon as the soil can be worked, but beware of planting them in soggy soil. Many gardeners turn the soil and allow it to dry for a week or more before planting to reduce the risk of rot. Although potatoes germinate and grow in cool soil, excess moisture creates the risk of the tubers rotting before germinating. Early potatoes typically mature between 65 and 85 days, but immature tubers can be harvested within seven weeks.
Mid-Season Potatoes
Midseason potatoes such as Red Pontiac can be planted early, but they do not require it. These potatoes can be planted up until early summer and still produce well. Although you do not need to wait until after the danger of the frost has passed in your area, you may wish to plant your potatoes when you plant other tender crops. Mid-season potatoes are typically grown for eating fresh during the summer and mature in 85 to 100 days.
Late-Season Potatoes
Plant late-season potatoes from early spring until early summer. These potatoes are typically grown for storage and will mature well into the fall. Days to maturity range from 100 to 135 days.This includes varieties such as Dakota Jewel and Desiree. Potato foliage continues to produce food for the plant and tubers continue to grow until a hard frost sets in.
Considerations
Planting potatoes in early spring provides for a longer growing time. In area where the growing season is short and cool, planting potatoes in early spring -- regardless of the variety and intended use -- may be the wisest choice. Always check the days to maturity of your red potatoes and plant them early enough to allow them to mature before mid-fall.