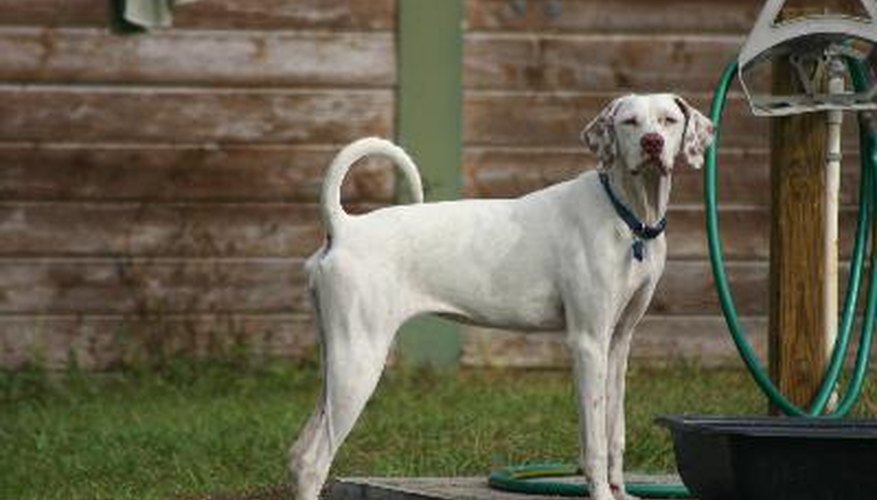 When your pet has fleas, it is important to treat your yard for the insects as well as the animal. That's because even if you successfully rid your pet of fleas, it will become infested again as soon as it goes outside if you don't take care of your yard. Many people do not like the idea of spraying their yard with chemicals, so consider choosing a natural way to rid your yard of fleas.
Diatomaceous Earth
Diatomaceous earth is a natural way to get rid of fleas that have infested your yard. Purchase garden-grade diatomaceous earth from a pet store or garden center and sprinkle it all over the areas in your yard where the fleas are living. The substance is made from the shells of small sea creatures, which are called diatoms, and will dehydrate the fleas, resulting in their death. If you don't eradicate all of the fleas with the first application of diatomaceous earth, reapply after 7 to 10 days.
Nematodes
Another natural way to remove fleas from your yard is through nematodes. Nematodes are small, microscopic worms that eat the flea larvae, therefore destroying the flea population. Nematodes are available online and at some garden or pet stores. You typically apply them through a sprayer to areas where the fleas are living. Because nematodes reproduce rapidly, you won't need a large number to see results. Nematodes will continue living and controlling fleas in warmer weather, but may become dormant or die in the cold weather.
Organic Insecticide
Because many people want to stay away from chemical insecticides, organic insecticides are a common choice. Look at a pet store, organic supermarket or health foods store for an organic insecticide spray. These products contain only natural ingredients, such as the natural chemicals that plants use to deter insects. Organic insecticides that contain pyrethrins or pyrethrum are effective in killing fleas.
Preventative
There are several things you can do to prevent fleas from living in your yard and harming your pet. Fleas like to live in areas with a lot of vegetation, so keep your grass cut short. Rake leaves, pine straw and other vegetation because the fleas can reproduce within it. If you think that an area of your yard might have fleas, spray it with your hose until it is flooded. The water can drown larvae and adult fleas before a large-scale infestation happens.