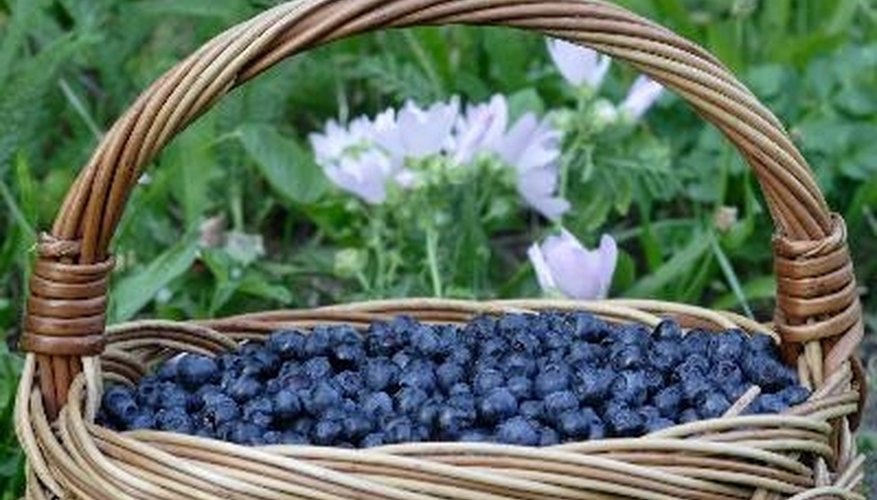 Blueberry bushes make a wonderful addition to an edible garden, with heavy-bearing varieties providing an average of 8 lbs. of fruit per bush when mature. Typical varieties include rabbiteye and tifblue. Since blueberries must be picked fully ripe, place a cloth net over the bush around harvest time for protection from birds. Berries should be deep blue/violet, full and easy to pick from the bush when ready. Wait five to 10 days between picking batches for best results.
Soil Health and pH
Blueberries typically need a very low soil pH that's high in acid content. If the pH level is too high, the berries can't absorb enough iron, and they turn yellow. Proper pH level should be below 5.0 or 5.3, depending on the variety. If soil tests determine your soil's pH is above this, add 2 lbs. of sulfur per square inch to lower the pH level one whole unit. You can also apply two to three sprays of nettle tea or kelp solution. Proper mulching and fertilizing also helps maintain proper pH. Blueberry maintenance and care can be tricky because they require very low soil pH, proper pruning and meticulous irrigation to stay healthy and productive.
Watering and Drainge
Blueberries thrive in areas with high soil drainage. Before planting, test the site by digging a dry well 6 to 8 inches deep. After a heavy rain, observe how quickly the water drains. If it takes longer than 24 hours, choose another growing site. Blueberries need even, consistent wetting, so a soaker hose irrigation system works best, typically more than two drips per plant. Though blueberries need a thorough wetting, it's important not to water more than once every two days to decrease the chance of root rot.
Mulching and Fertilizing
To encourage even soil moisture retention and reduce soil temperature -- much needed for blueberries -- mulch with organic material. Bark, wood chips, pine straw and sawdust work best. Pine bark and sawdust have an especially low pH level between 3.5 and 4.5, so they do double duty by maintaining low soil pH levels. Mulching also aids weed control when 1 inch per year is applied. Don't use sticky hardwood mulch, because it seals the bed and will prevent proper drainage.
Pruning
Pruning your blueberry bush allows it to grow and shape properly, and it increases fruit production. It's especially important during the first two years of establishment. Thereafter, annual pruning is still required. Remove any dead or diseased canes first, and never remove more than two or three fully-grown canes each year. They have precious fruit buds. Prune branches touching dead or diseased twigs. The bush should be narrow at the bottom, wide and open at the center and fairly free of overgrown vegetation, typically more of an issue in older plants.