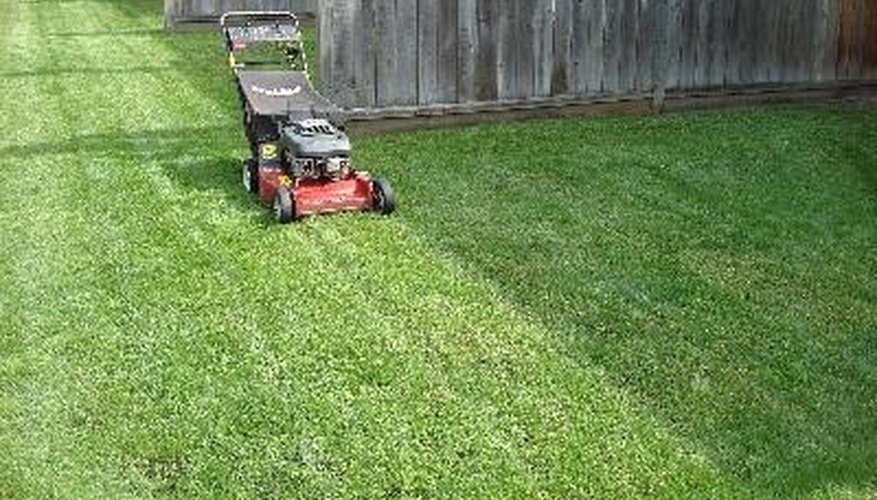 lawn maintenance image by Horticulture from Fotolia.com
Commercial lawn weed killers contain chemical herbicides such as glysophate that kill and shrivel the weeds in lawns. Chemical herbicides can damage the environment and ecological system because they leak into the soil and eventually pollute streams and rivers. Environmentally aware gardeners avoid chemical herbicides and choose natural and organic weed killers instead. The high acid content of vinegar makes it a highly effective weed killer.
Active Ingredient
Made from the distilled and fermented juices from grains and fruits, the active ingredient that makes vinegar such a potent weed killer is acetic acid. Most vinegar on sale at grocery stores or supermarkets contains 5 percent acetic acid. This may not sound like very much, but acetic acid is a powerful substance and a 5 percent solution will kill weeds. Vinegar with 10 percent or 20 percent acetic acid content is a highly effective weed killer.
How it Works
When applied to the leaves or stems of weeds, the acetic acid in vinegar draws all the water content from the leaf. This removes or damages the green chlorophyll in the plant and prevents the weed from photosynthesizing. All plants depend on photosynthesis for the energy necessary to stay alive. The weed dies as the vinegar acid sucks moisture from the plant. Full-strength vinegar sprayed onto a weed in the full sun can kill the plant in a few hours.
Cautions
Unlike most herbicidal chemical weed killers, vinegar kills all plants indiscriminately. This limits the use of vinegar on extensive areas such as lawns because careless application will kill the grass around the weed. The most effective way to kill lawn weeds with vinegar is to spot treat weeds by painting vinegar onto individual plants. Spraying vinegar onto lawns risks killing the grass along with the weeds.
Recipe
Choose from numerous vinegar-based weed killer recipes. Most recipes combine vinegar with salt and a little regular dishwashing soap. For spot-treating lawn weeds, you will need only a small amount of weed killer. Mix 4 cups of vinegar with ¼ cup of salt and 2 tsp. of dishwashing soap. Mix the ingredients in a clean container and paint the solution onto lawn weeds with a small paintbrush.