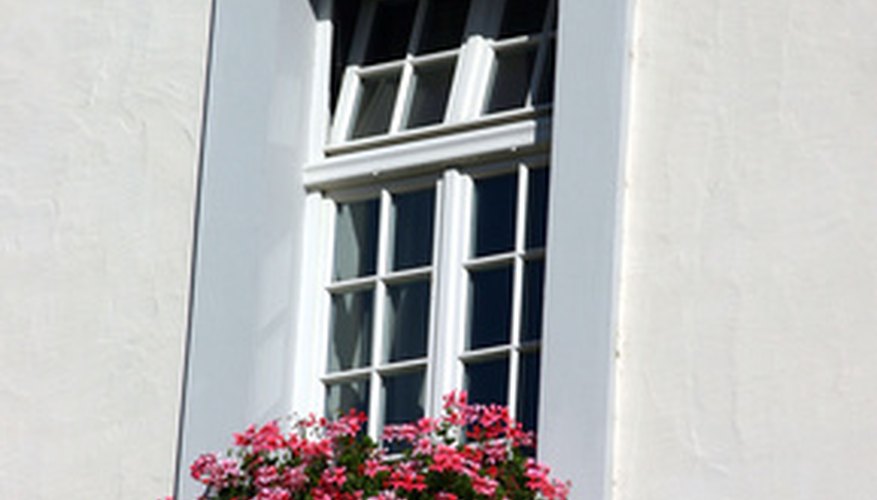 Window boxes are an ideal solution for space-challenged gardeners, adding bright color that contrasts beautifully with the solid color walls of a house or apartment. Even gardeners who cope with difficult, hot, dry summer conditions can fill a window box with a variety of tough but colorful blooming plants.
Annuals
Annuals are ideal choices for window boxes, providing a single season of bright color. Annual vinca (Catharanthus roseus) is a low-growing plant ideal for a window box. Vinca produces blooms in shades of lavender, purple, pink, white, salmon and red from early summer to the first frost. Creeping zinnia (Sanvitalia procumbens) won't grow past 6 inches tall, but each plant will spread out to 2 feet. French Marigold (Tagetes patula), with its upright growth habit and bright yellow, orange or gold blooms, thrives in hot, dry climates. With its bright, daisylike flowers, Gazania (Gazania rigens) is a sun-loving plant that requires little water. Moss Rose (Portulaca grandiflora) is a desert plant that adds intense color to a window box, growing to heights of 6 to 9 inches.
Perennials
Perennials aren't often planted in window boxes, as the plants are susceptible to freezing during the winter. However, perennials can be a good choice for warmer climates, or for gardeners who are able to protect window boxes during the colder months. Bergamont (Monarda didyma), also known as bee balm, is a durable perennial bloomer with bright blooms and a pleasant, lemony scent. Lavender, a shrubby perennial with tiny blooms, is a good choice, for a hot, dry climates. Vinca major is an evergreen ground cover that remains green year-round. Vinca major benefits from a weekly watering during warm weather.
Sedum
Sedum is an annual plant tailor-made for window boxes in hot, dry climates. Planted in a well-draining container, sedum is a plant-it-and-forget-it variety that tolerates extreme heat and dry conditions. Dragon's blood (S spurium), spreads quickly and produces a mass of dark red flowers in late summer. Gold moss sedum (S. acre) is a sunny plant that displays bright, golden flowers. Sedum x "Autumn Joy" has an upright habit and coppery pink blooms. Meteor (Sedum spectabile) brightens a window box with large pink blooms and bluish-green foliage. Sedum Acre is low-growing with masses of greenish-yellow flowers.
Vining Plants
Vining plants beautify a window box with trailing foliage and cascades of blooms. Cypress vine (Ipomoea quamoclit) is a vining plant that trails up to 10 feet, with delicate foliage and tiny, bright red flowers. Licorice plant (Helichrysum petiolare), trailing to 6 to 12 inches with fuzzy, silvery gray leaves, tolerates hot, dry conditions. Lotus Vine (Lotus berthelotii) is a hot weather lover that produces feathery, trailing foliage and bright crimson flowers. Trailing Lantana (Lantana montevidensis), thrives in hot, windy, dry climates, producing white or lavender blooms on trailing stems.