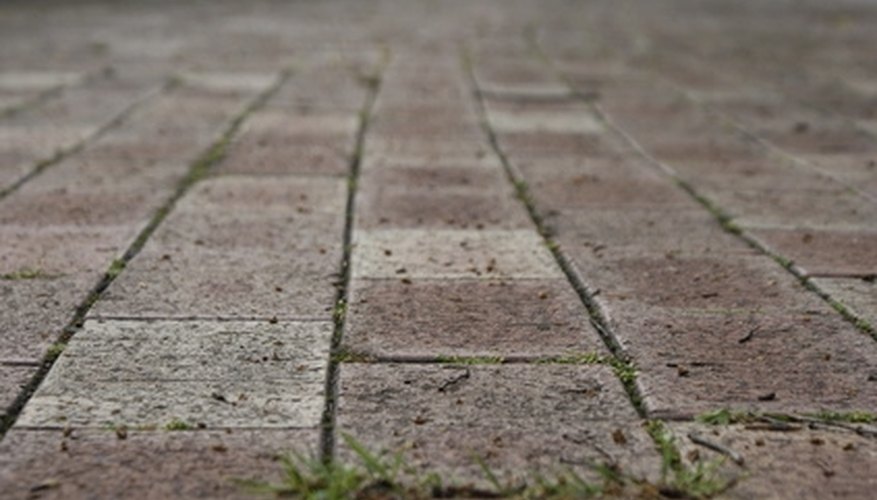 For a patio, brick pavers are an attractive alternative to concrete. Brick pavers come in a range of sizes, colors and shapes, allowing you to get creative in the design of your patio. Pavers are also sturdy and durable. But they must be maintained. Take care of your pavers, and your patio will please you for years to come.
Put Sand in the Joints
One of the main problems with patio pavers is erosion between the bricks. If the joints between pavers are allowed to erode, they can settle. In the winter, when the patio is vulnerable to snow and ice, the pavers can expand and contract, causing them to move if the joints aren't tight. Adding sand to the joints between the pavers is an effective way to maintain the neat, crisp look of your patio and keep it stable. Purchase sand that is specifically meant for use with brick, and pour it over your entire patio. Use a broom to sweep the sand into the joints. The sand becomes compacted in the joints, preventing erosion. Afterward, all of the sand should be swept from the top of the bricks.
Hose Regularly
The simplest way to ensure that your paver patio maintains a clean, attractive appearance is to hose it regularly. A broom can be used to sweep dirt and debris from your paver patio, but hosing ensures that even the most stubborn debris is removed.
Prevent Weeds
The look of your patio can be spoiled if weeds begin to grow in the joints between the brick pavers. Herbicide spray can be used to kill weeds and prevent their regrowth. But some of them should not be used if you have children or pets. An alternative is a mixture of vinegar and water. Apply the mixture to any areas where you see evidence of weed growth. The vinegar-water solution isn't as long-lasting as an herbicide, but it is entirely nontoxic. If you do not have vinegar on hand, substitute lemon juice.
Seal Pavers
The most effective way to maintain your brick paver patio is to use a sealant immediately following installation and every few years afterward. A sealant helps to preserve your brick pavers' color and prevents weathering. It makes cleaning stains from the patio easier, as well. Brick sealer products are available with both matte and gloss finishes, so you can choose the look you prefer. You may also choose to use a joint-stabilizing sealant that not only preserves the look of your patio, but also hardens the joints so the pavers are set firmly in place.