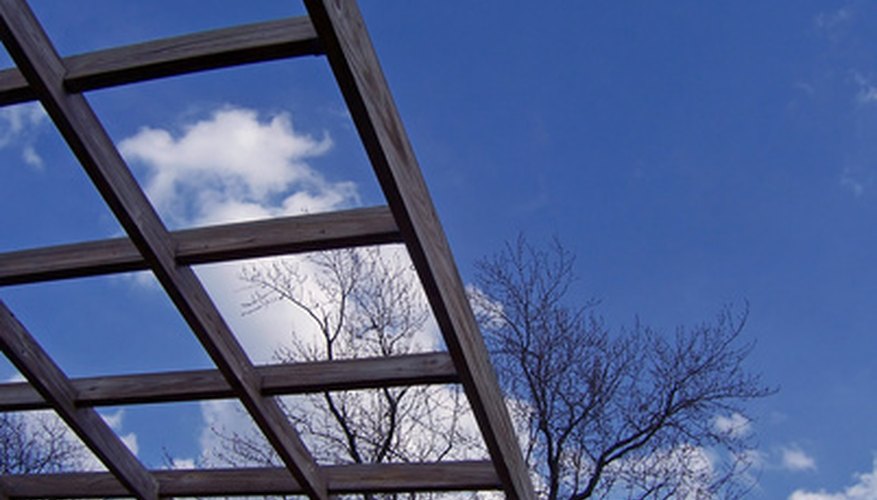 Privacy fencing is specifically designed to keep your lawn or garden hidden. It typically involves large pieces of wood secured into the ground, which makes it difficult, if not impossible, to move. Removable privacy fence ideas include ways to keep your home private, while still giving you the option of moving the pieces in the future. Do-it-yourself projects of this type should take only a few hours to install.
Potted Privacy Fence
Potted privacy fencing consists of different plants that offer privacy and protection from prying neighbors. The plants and trees are placed in small containers. The containers are large enough for the plants to grow properly, without having to transplant them to a larger container later. The containers also add a decorative element to your privacy fence. Arrange the containers next to each other, making sure the plants don't rub directly against one another. Alternate the size of the plants, opting for one taller plant next to a shorter plant. This adds an interesting dimension to the privacy fence, while still offering the privacy you need.
Bamboo Fencing
Bamboo fencing is made in the same way as wood privacy fencing, but it is much more lightweight. Unlike wood fencing, which requires digging into the ground and anchoring the fencing, bamboo fencing is pressed directly into the ground. The pieces feature short legs that sink easily into the ground when you apply force to the top of the fence. The panels fit side by side, making it possible to cover a smaller area or a larger yard. For a more decorative look, opt for panels with lattice work along the top.
Garden Art
Create a removable privacy fence from a piece of garden art. Garden sculptures offer privacy from others, especially pieces that are taller. Arrange multiple sculptures along one area of your yard to keep it hidden from your neighbors. You can also choose garden arches combined with arbors. The arbor serves as an entrance to the garden or lawn. Place arches along the sides of the arbor, using the arches in combination with a climbing vine such as ivy, which will provide more coverage.
Outdoor Screens
Outdoor screens are extremely lightweight and easy to move. Look for screens that are at least 6 feet tall and that have legs to keep the screens from tipping over. Arrange the screens around the sides of the yard for a quick DIY privacy fence. The screens will keep others from peering into your backyard without looking as dark or heavy as traditional wood privacy fences do.