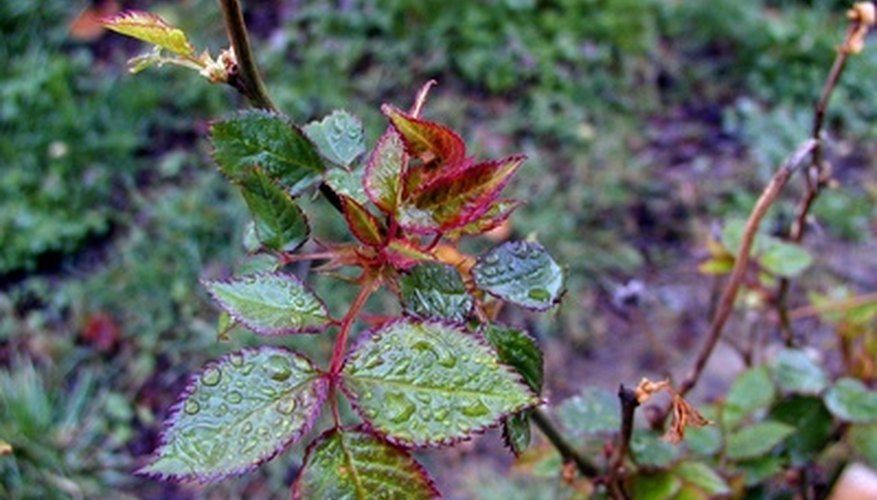 Like all plants, roses need water to survive. Roses are thirsty plants, but too much water is not good for the plants. When roses stand in water, it is called having wet feet. Roses with wet feet will wilt and may even die. Instead, the plants need just the right amount of water at just the right time of day.
Soil Types
The type of soil that roses are planted in will determine the frequency that roses need water. Sandy soil drains more quickly than loamy soil. Because of this, roses planted in sandy soil will require more frequent watering. Clay soil drains less easily than loamy soil. Roses planted in clay soil will not need as much water. Roses grow best when planted in loamy soil with good drainage and an abundant supply of water. Water conservation methods such as mulching shrubs will help to reduce water loss from the soil during hot weather and reduce the frequency of watering.
Rose Size
Large roses have a larger canopy and loose water through those leaves in a process called transpiration. As roses transpire water, they pull more water up through their root system. Older roses will have a larger root system to match their extensive canopy. These roses will use more water than smaller shrubs. Large roses will also need more water than smaller shrubs.
Watering Tools
Utilizing tools that help with watering will assist many rose growers with ensuring that they water correctly. A sprinkler will help to distribute water over the rose drip line efficiently. A rain gauge will help determine how much rain has fallen and how much must be supplemented by a sprinkler. A soil probe will help you determine if the soil around your roots contains water or if watering is needed.
Watering Frequency
During seasons of frequent rainfall, watering may not be needed. Roses need the equivalent of 1 inch of rainfall every 7 to 10 days. During a season of little rainfall, supplement this water with a garden hose. Water deeply around the roots of a shrub by putting a soaker hose or a sprinkler on a low setting near the base of the shrub. Always water early in the day to give the water on the leaves and rose canes time to evaporate and prevent an environment conducive to fungus or mildew.