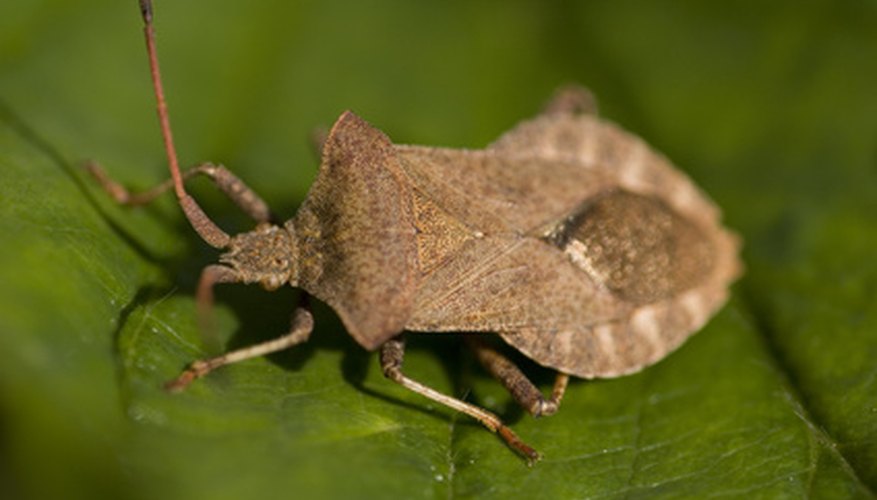 Organic gardening does not mean you cannot use chemicals to control insect pests. According to the United States Department of Agriculture, gardeners can use chemical insecticides in organic gardening as long as those chemicals derive from mineral or botanical sources. Though natural and safe for the environment, mineral and botanical pesticides require special safety precautions for use.
Nicotine Sulfate
Nicotine sulfate, a tobacco plant extract, works on contact when the substance is easily absorbed into pest insect bodies. The extract works by causing an interference between nerves and muscles, effectively causing pest insects' organs to stop. This natural pesticide product is effective at controlling aphids, spider mites and thrips, among other parasitic insects. To apply nicotine sulfate, dilute the liquid form with water and spray on or dust the powdered form onto the plants. Wear gloves and cover your face, eyes and skin to prevent contact with the substance, which is highly toxic to humans and animals.
Sabadilla
Derived from seeds of the Sabadilla lily, this botanical insecticide is one of the least-toxic natural pesticides, safe enough to use on edible crops just days before harvest. Effective at killing such insects as caterpillars, squash bugs and stink bugs, Sabadilla poisons insects via direct contact as well as stomach poisoning upon ingestion. When applying Sabadilla, cover skin and use a face mask to prevent irritation to the skin and airways.
Sulfur
Labeled for use on apples, beans, cherries, grapes, peaches, peas, potatoes and tomatoes, sulfur provides a non-toxic, natural insecticide for vegetable gardens. Avoid contact with skin and eyes to prevent irritation, and apply sulfur as a dust, liquid or paste to control insect pests such as spider mites and thrips. Unfortunately sulfur also has the potential to damage plants, when used incorrectly; sulfur should not be used in combination with other pesticides because chemical reactions may occur and damage plants. Sulfur should not be applied during dry, hot periods, as the substance increases the risk of plant injury.
Diatomaceous Earth
Diatomaceous earth exists as the powdered form of fossilized diatom shells. Dusted onto garden plants, Diatomaceous earth works effectively on most insect pests because the abrasive powder scratches open insect exoskeletons, causing death by dehydration. Dust around plants to create a border than will kill crawling pests such as ants, snails and slugs. Diatomaceous earth may cause skin and airway irritation, so always wear gloves and a face mask when applying this relatively non-toxic insecticide.
Rotenone
Derived from the roots of derris and cube plants in Asia and South America, Rotenone results in stomach and on-contact poisoning of insects. Insects affected by Rotenone include aphids, beetles and caterpillars. Although safe to use on garden crops because it wears off quickly and does not form a residue on plant leaves or fruits, Rotenone is moderately toxic to mammals. To use Rotenone safely, always wear a face mask to prevent irritation to the airways.