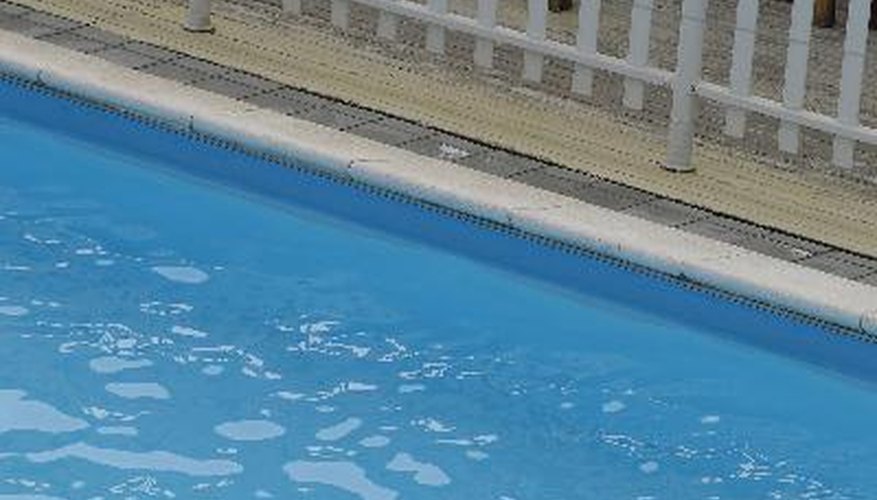 One of the most serious problems that a pool owner may encounter is a leak in the pool's plumbing or liner. Steps must be taken to repair the leak as soon as possible to prevent damage to the pool's structure and other parts. When a pool leak occurs underground, however, it may be difficult to detect initially. Familiarize yourself with the warning signs of an underground pool leak, so you will recognize one as quickly as possible.
Adding Water More Frequently
While pools lose water to evaporation naturally, having to add water to your pool more frequently than normal is usually the first sign of an underground pool leak. In many cases, an underground leak is significant enough that the rapidly dropping water line is difficult to miss. If you notice that the waterline falls two inches or more from one day to the next, there is probably an underground leak in your pool.
Higher Water Bills
For a pool that has a device that automatically fills it when necessary, you will not be able to recognize a leak based on how often you add water. As a result, your first indication that there is an underground leak in your pool is usually higher-than-normal water bills. Be aware of what your usual bill is so you recognize a change as soon as it occurs; some water companies will alert you if they notice unusual increases in water use.
Increased Algae Growth
Another symptom of an underground leak in your pool is the increased incidence of algae growth. Algae grow more frequently when there is an underground leak because water must continually be added to the pool to compensate for the leak. The added water is untreated, so the chemicals used to prevent or kill algae growth are diluted.
Wet Spots in Surrounding Grass
An underground pool leak may also be detected by the presence of mushy, wet spots in the grass and dirt surrounding the pool. The grass may begin to grow unevenly and areas of standing water may develop as well. These symptoms result as the water from an underground leak begins to push up toward the surface.
Structural Damage to Pool or Deck
Underground water leaks may also cause structural damage to the pool or surrounding deck as well, which can alert you to a problem. Signs to look for include gaps or cracks in the pool's shell or concrete deck; the pool settling further into the ground; and pool and deck tiles falling loose or cracking.