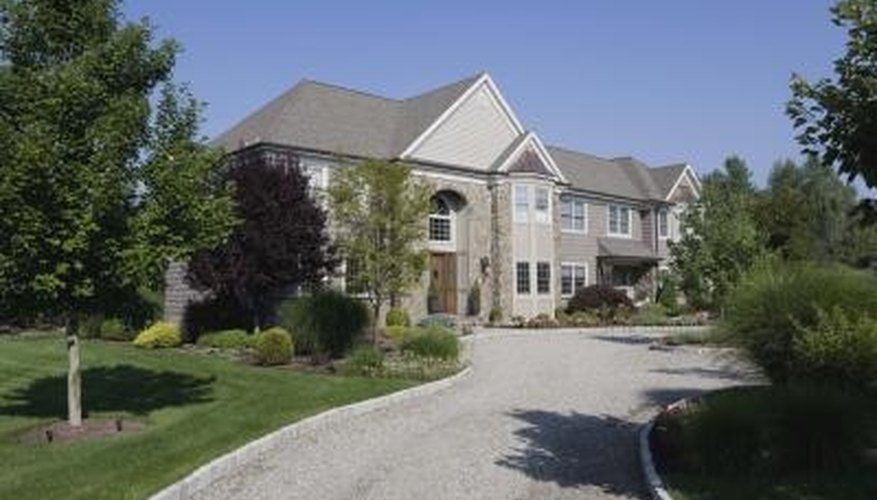 Any driveway, asphalt or concrete, needs routine maintenance for maximum performance. A good top coat can improve the appearance of your driveway and enhance your home's curb appeal. Remove any nearby trees that may push their roots up through the driveway, create a slight slope to aid water runoff, and install gutters to prevent water from dripping onto the driveway. Before starting a resurfacing project, clean the driveway with a commercial driveway cleanser.
Coal Tar Sealers
The most popular product for asphalt resurfacing is a coal tar-based product. It holds up well to everyday wear and tear. The water-based emulsion contains not only water but clay filler, latex, polymers, additives and tar. It is the least expensive of the available sealers but does emit a toxic odor during application. Application is done with a broom or squeegee.
Asphalt Sealers
Far superior in terms of air quality and less noxious, asphalt sealers are more expensive than coal. With the recent improvements in additives and polymers, they are now comparable to coal sealers in terms of longevity. The smaller environmental impact is worth the extra expense involved.
Self-Adhesive Fabric
Made of heavy-duty asphalt-saturated polypropylene fabric, this relatively new product is applied to an asphalt driveway like a large roll of tape, covering cracks and breaks in the asphalt layer. It patches, seals and waterproofs in one step. Cut the fabric with a utility knife and press it into place over any cracks. Add a coat of sealant to even out the color, and your driveway looks like new.
Rubberized Blacktop Filler & Sealer
This product fills small cracks while it seals the asphalt. Tiny sand particles are mixed into the urethane polymer to fill crevices. Application is with a driveway brush or squeegee and needs 24-48 hours before driving a car onto it.
Acrylic Concrete Sealer
A virgin or pure acrylic resin-based sealer is the best sealer for concrete driveways. It is mixed with epoxies, polyurethanes or silicone to improve performance and durability. This is a penetrating sealer that seeps into the concrete to form a barrier to water, oil and other contaminants. It is applied with a roller or a sprayer.
Epoxy Concrete Sealer
Costlier than an acrylic sealer, this type offers a thicker buildup on top of the concrete, making it slippery. It also prevents moisture from escaping the concrete, which results in the quicker erosion of the concrete.